After the Government put £3million towards rebuilding Hammersmith Bridge, a pressure group member claimed their "green" plan is to cause so much traffic that driving becomes unbearable.
South west London residents have complained about excessive traffic since Hammersmith Bridge closed in April 2019, needing major structural repairs.
On Tuesday, the Government announced they are splitting £9million repairs with Hammersmith & Fulham Council and Transport for London (TFL), despite estimates it would cost £141million to restore the bridge fully.
Dionne Waters Bridgeman, 48, who has been an active member of the Hammersmith Bridge SOS group for two years, said: "It's not fair that a major transport artery has been shut because of a lack of maintenance.
"And the closure is, unfairly, becoming part of London's "greener" strategy.
"Along with congestion charge schemes, it's like the Government and Hammersmith & Fulham Council are thinking the only way we're going to get cars off the road is by making it so unbearable to be in a car, stuck in traffic, that people no longer want to drive.
"But lots of people live on or near main roads nearby and they're all going to suffer – why can't there be a cohesive plan that supports those people and makes London greener?
"One of London's major bridges isn't working, and I don't understand how that doesn't concern or embarrass them.
"At the very least even if they don't open it to all cars, let public transport use the bridge to help people and reduce the pollution from traffic."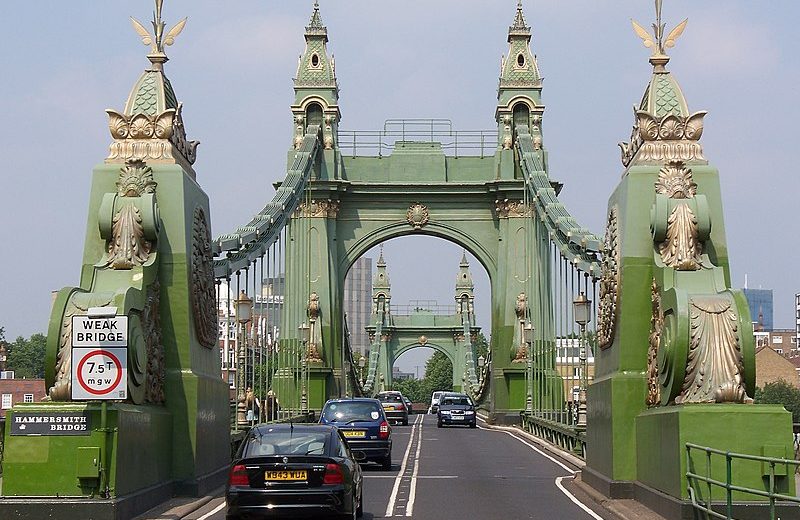 Since July, the bridge has been open to pedestrians and cyclists, and only if they dismount.
Speaking about the government's funding, a Hammersmith Bridge SOS spokesperson said: "£3million is a drop in the ocean compared to the estimated cost of fully reopening the bridge.
"The Government had long promised this tiny amount to Hammersmith Council to repair the bridge for pedestrians and cyclists back in the summer.
"The fact they're making a song and dance about it now is purely because local elections are around the corner."
For the Great Yarmouth Third River Crossing, the Department for Transport paid £98million of the £121million needed for repairs in 2008.
Comparatively, the Government and TFL have only offered 66% of the costs towards repairing Hammersmith Bridge.
Transport Secretary Grant Shapps said: "Today, I'm giving Londoners reassurance this government will do everything in its power to keep this vital, historic structure open.
"We're investing millions into its restoration, ensuring local residents can continue to cross the river by foot or bike and I look forward to working further with the local council on future works to reopen the bridge to motorists."
Hammersmith & Fulham Leader Councillor Stephen Cowan added: "I am determined to fix the bridge as speedily as possible.
"That's why we took the initiative to begin the stabilisation works and to kickstart the full restoration project."
Over the next few months, corroded roller bearings on the bridge will be replaced in an attempt to stop the cast iron structure from cracking any more.
Featured image credit: Alex Muller under cc-by-SA 3.0