A Wimbledon mental health charity won gold at the Design Business Association (DBA) for its app which helps teenagers manage urges to self-harm.
The Design Effectiveness Awards were hosted on June 12 by BBC London News presenter Alice Bhandhukravi, and stem4's Calm Harm app was entered by design agency HMA.
Dr Vish Retnasingham at Groves Medical Centre in New Malden, Kingston, has been a GP for 13 years. He said dealing with mental health is hard for GPs and recommended Calm Harm to a 13-year-old patient.
He said: " Usually the family comes in when worried about their child.
"People use self-harming as a way of releasing tension and stress, and Calm Harm helps people work though exercises to understand their feelings.
"I would also refer the patient to Kingston's Single Point of Access (SPA) Team for assessment but there are waiting times, so using a validated app like this can help in the meantime.
"I wouldn't just recommend the app alone; the patient should also have this multi-disciplinary team assessment."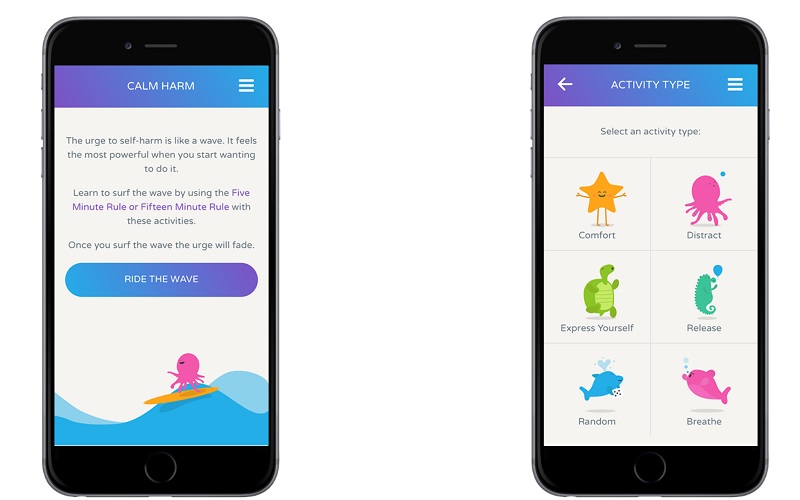 BRINGING CALM: The app encourages teenagers to reflect on their behaviour
Consultant clinical psychologist Dr Nihara Krause has 30 years' experience and formed stem4 after supporting students at a Merton school more than nine years ago when a 15-year-old student died after struggling with an eating disorder.
She said: "Calm Harm does not diagnose anything; it uses a form of cognitive behavioural therapy so is based on scientific principles and to helps young people manage a difficult behaviour.
"It doesn't replace the job of a mental health professional but gets users to reflect on their behaviour."
India, 16, told the DBA she uses the app, which was redeveloped 18 month ago, when feeling the urge to self-harm and keeps a journal of what triggers her feelings.
The app has been downloaded around a million times across 171 countries. It is used anonymously and provides breathing and distraction exercises.
Working with secondary schools, parents and GPs in south west London, stem4 delivers digital information workshops which also focus on eating disorders, anxiety, depression and addiction.
The DBA awards gold to outstanding projects with evidence of 'exceptional results' having a powerful business or societal impact.
The NHS Long Term Plan pledged £1.25 billion to support improvements in Children and Young People's Mental Health Services (CYPMHS) by 2020, with £150 million for eating disorder services.
Find more Calm Harm information here.
Feature image shows (left to right): stem4 founder Dr Nihara Krause, HMA managing director Nicola Tiffany and DBA chief executive Deborah Dawton. Credit: Oleg at Event Photographer London