A Brixton musician drummed like her life depended on it last night for one unique little girl whose life actually does.
Kayleigh Cheer, 22, played for 12 hours non-stop in The Windmill, Blenheim Gardens, to raise life-changing treatment funds for nine-year-old Eden Veremu, the only diagnosed sufferer of Myoclonus Diaphragmatic Flutter, or 'Belly Dancer's Syndrome', in the UK.
The condition, which has just 50 global reported cases, causes Eden up to 150 diaphragmatic contractions (extreme hiccups) per minute which affect her speech and leave her in agonizing pain.
Kayleigh, of Upper Tulse Hill, said: "When I heard that Eden was ill, you never think it'll happen to someone close to you and I thought: 'What can I do?'"
"I really wanted to do something to contribute and I only play drums – it's my only skill in life – so I said I'll have to do that."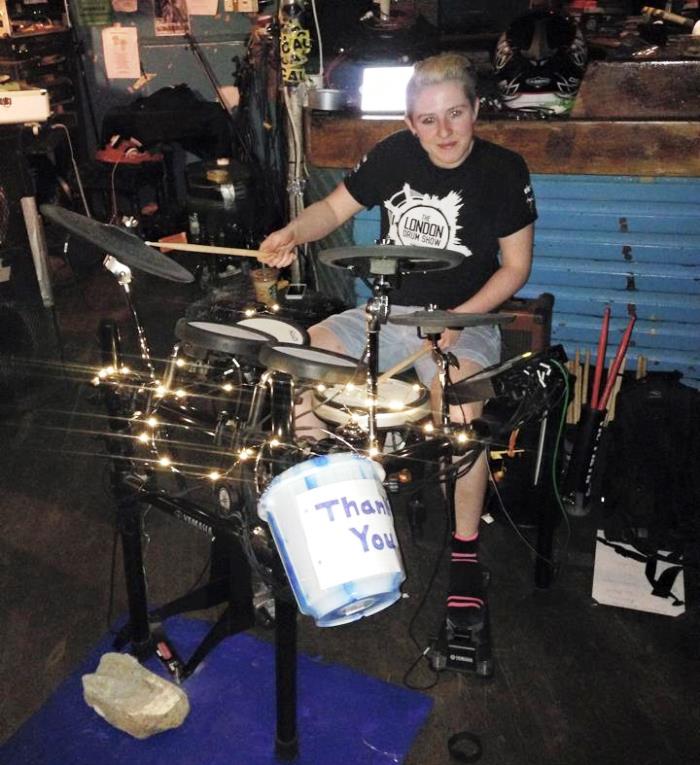 DRUMMING UP FUNDS: Kayleigh raised £620

At the latest count Kayleigh has surpassed her £500 target and has drummed up £620.
Since Eden was diagnosed on November 25 last year, her mum Trudi Veremu has researched relentlessly to find a specialist able to treat her after countless UK doctors failed to confirm a diagnosis.
With £3,303 of the overall £6,000 target already raised Trudi, Eden and her younger sister Galia, have been able to travel to Colorado to meet with a specialist and another sufferer, Chaz Moore.
Emma Arden, 43, who has known the family for three years, said that meeting Chaz has been a real breakthrough for Eden, and that the families of each jokingly refer to the conversations affected by their Myoclonus Diaphragmatic Flutter as 'fluttanese'.
Singer-Songwriter Emma, of Streatham Hill, said: "It's a real testament to how amazing Trudi is, and her family because everyone just wants to help and there have been so many fundraisers.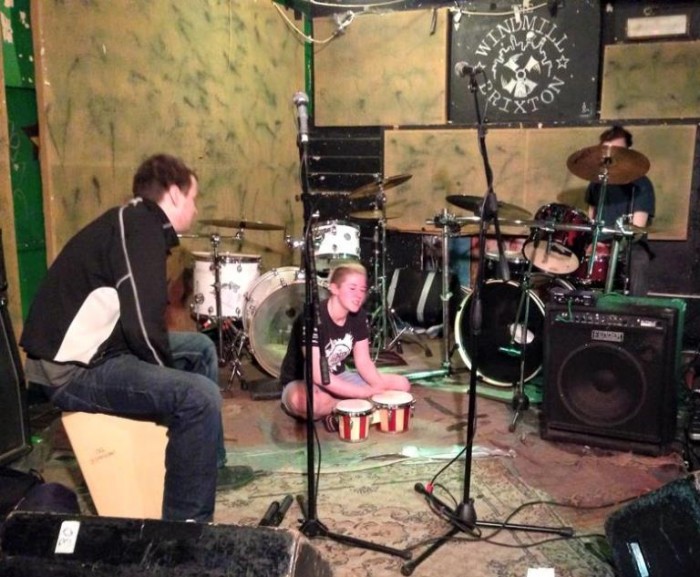 DRUMMING UP FUNDS: Kayleigh raised £620
"All of her friends and artists, as she's a music manager, have just wanted to help."
Eden has often been in too much pain to attend school and has missed the majority of two terms but is so keen to learn she has asked for work to be sent home to her.
Emma added: "She's just a kid who wants to go to school with her friends and do normal stuff and since November she hasn't been able to."
You can donate at: gofundme.com/helpeden.