An exhibition celebrating the style of Princess Diana opened to big crowds at Kensington Palace today.
Fans joined huge queues for the sold-out opening of Diana: Her Fashion Story to see some of her most well-known outfits and understand how her style shaped her public image.
Highlights on display include the iconic ink-blue velvet gown she wore at the White House in 1985, where she famously danced with John Travolta, and the pink Emanuel blouse she wore for her engagement portrait in 1981 — exactly 36 years ago today.
The huge turnout is suggestive of Diana's continuing popularity 20 years on from her death.
Margaret Tyler, 73, who has been described by the Wall Street Journal as 'Britain's Loyalist Royalist', and Tony Hutt, 81, were the first visitors to the exhibition this morning.
The pair were adorned in Union Jacks and carried photos of Diana with them.
Ms Tyler, who met the Princess six weeks before her death, said: "It's fantastic when you see all the dresses.
"I think [events like this] will be happening in 40 years' time."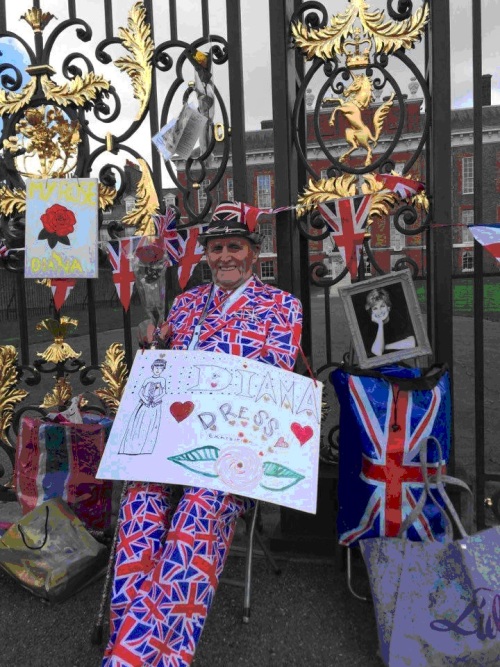 Mr Hutt, who met Diana several times through charity work, said: "I would have loved to have seen her back in her dresses."
Along with the exhibition in the Pigott Gallery a sunken garden has been planted in honour of Diana — the princess was often known to enjoy walking in the palace grounds.
The White Garden will be planted for spring and continue to flower in summer.
Inspired by Diana, the garden will feature white roses and a carpet of forget-me-nots.
Diana was a much loved Kensington resident, having lived at Kensington Palace from 1981 until her death in 1997, and was known to shop along Kensington High Street.
Her extensive charity work in west and south west London included advocacy for people with HIV and Aids at the London Lighthouse in Ladbroke Grove and visiting sick children at the Royal Brompton Hospital in Chelsea.
The exhibition is open throughout 2017 with tickets starting from £12.60.