Jovial joggers will be bringing 'Where's Wally' out of hiding for a themed fun run on Clapham Common this March.
Donning bobble hats and striped sweaters, participants will be raising money to help disadvantaged children improve their literacy skills on Sunday March 20.
Over the last three years the fun run, organised by the National Literacy Trust, has raised more than £200,000.
Past runner Tom McQuillin said: "I'm running the National Literacy Trust's 'Where's Wally' fun run for the third time.
"My three boys will be doing the 1k children's race, while I will be doing the 10k, and it's great that there is something for the whole family to take part in.
"There's always a really feel-good atmosphere with everyone having fun while supporting such a good cause."
Runners can choose between 5k and 10k courses, with chipped timing for those looking to beat their personal best, while children under 12 can tackle a new 1k track.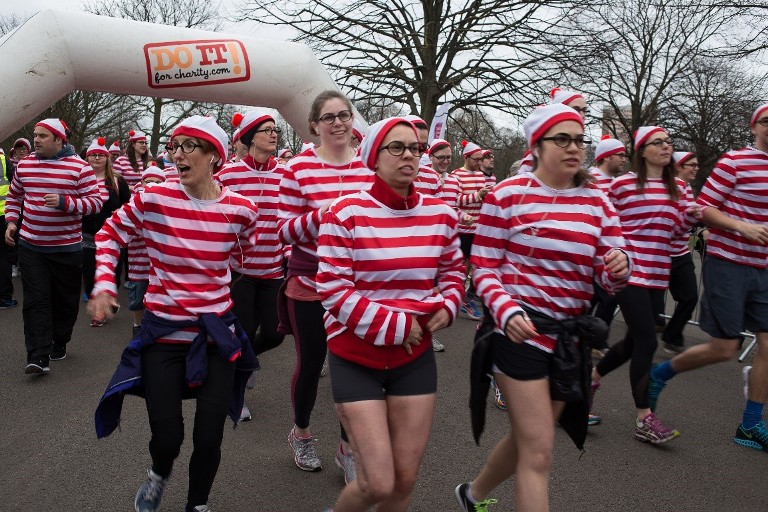 THERE HE IS: Oh, and there…and there!
There will also be a festival area with music, food stalls and a range of games and activities for children, as well as a runner's lounge and a book sale.
The National Literacy Trust's senior fundraising and events manager Suzie Curran said: "Research shows that one in five children leave primary school unable to read well, which rises to one in three children from poorer backgrounds.
"We are calling on runners, book-lovers and families to join us for this fantastic event to raise vital funds to help disadvantaged children to improve their literacy skills."
Prices range from £9 for the children's course to £45 for a family ticket and the registration deadline is Friday March 4 2016.
Featured image courtesy of Tom McQuillin, with thanks
Image courtesy of the National Literacy Trust, with thanks