SW Londoner meets foodbank volunteers helping families struggling to make this season festive.
I'm led into a church hall filled with Fray Bentos pies and tins of biscuits. There's a buzz of pre-Christmas activity.
People sort boxes and debate the category of confectionaries. "Jaffa cakes: cake or biscuit?" someone asks.
When deciding the weekly food supply for some of south west London's lowest-income families, such questions are pivotal.
"We're generous here," Corinne Marshall, Wimbledon foodbank co-ordinator tells me as we fill bags with extra jars of pasta sauce.
Alongside the tonnes of pasta donated there are tins of biscuits, selection boxes and mince pies. After all, it is only a week until Christmas.
I'm one of a large group of volunteers. A few are regulars but the rest of us have come to help with the massive influx of donations and clients during the festive season.
Wimbledon foodbank will see three times more people in December than in November. In one week alone it will feed 228 people.
These are the years of the food bank.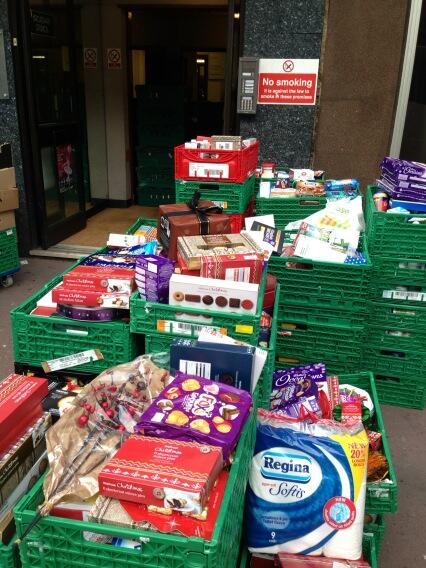 DONATIONS: Festive contributions pile up
According to data from the Trussell Trust 913,138 people received three days' emergency food from their foodbanks in 2013-14 compared to 346,992 in 2012-13.
The most common reasons for referrals are benefit delays, benefit changes and low income.
Poverty might be increasing month on month but December carries with it an exceptional burden.
David, a regular volunteer, tells me about a family who came to the foodbank that morning.
Their benefits hadn't come through and they had a daughter to feed –unfortunately Father Christmas can't wait for administrative failures.
"Christmas has a lot of pressure on individuals to be happy, merry and spend on others, when you are not making ends meet, some aspects of Christmas can make you feel very depressed and anxious," said Corinne.
The food bank pieces together a 21st century sense of community – it lets us help our neighbours even if we have no idea who they are.
However with a recent report from End Child Poverty revealing that Merton has a child poverty rate of 25% we clearly need more than a surge of festive goodwill.
Corinne talks about the generous donations from the local community. But unfortunately, beans do not pay the bills.
"More private sponsorship would relieve the pressure on non-food item costs like the client help leaflets we print, stationary and other overheads," she said.
As I label up the donations of mince pies and selection boxes, it's difficult not to feel slightly festive.
But then I spot the crates upon crates of beans on the storeroom shelf and it's a chill reminder that food banks are for life, not just for Christmas.
Featured picture courtesy of Bailey (and Muppet), with thanks