London Assembly member Caroline Russell met with New Malden residents to discuss bringing an Ultra Low Emission Zone to London suburbs this morning.
Speaking to members of the New Malden Residents Association, Ms Russell listened to their concerns about rising pollution levels in London and helped install a diffusion tube in the town to monitor pollution levels.
Ms Russell supports the idea of bringing an Ultra Low Emission Zone (ULEZ) to suburban areas, and criticised rising pollution levels within the city.
"We have a transport system that is inherently lethal," she said, blaming failure to deal with overcrowding on trains and buses for the number of cars on the road.
The two biggest concerns for Londoners, she stated, are Nitrogen Dioxide emissions from car exhausts, and microscopic particles known as PM 2.5 which can enter the bloodstream, increasing risk of death.
"With nine and a half thousand people dying in London each year and children growing up with lung problems, it is not acceptable to leave people breathing this air," Ms Russell said, stressing that the problem was of both local and national concern.
Emission levels in nearby Kingston and Worcester Park have already exceeded the yearly limits set out in the Government's Air Quality Strategy Objectives.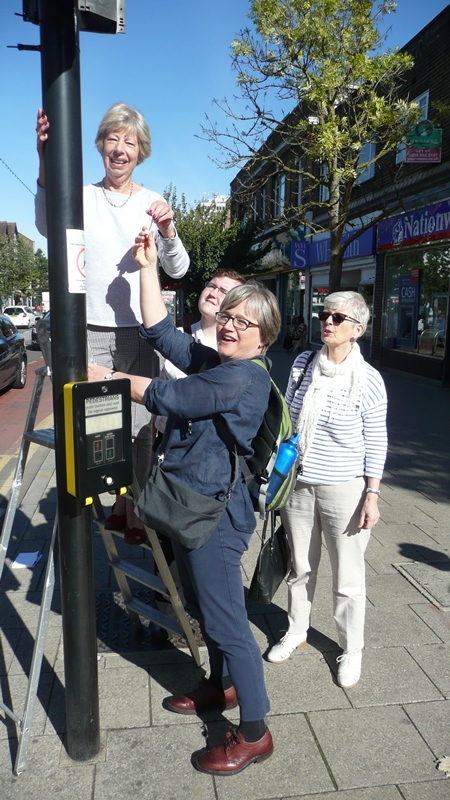 Ms Russell argued that alternative methods of travel must be embraced and that improving road usability for cyclists and increasing numbers of suburban train services will reduce the number of road users.
She said: "We will have to change the way we use the space, and we need to make it work for everyone."
Under the current plans, put forward by the Mayor of London, the world's first Ultra Low Emission Zone will be implemented in Central London by 2019.
There are also proposals to expand the zone to include all areas within the North and South Circular roads by 2020.
But the Assembly member said the city as a whole has to join in the discussion in order to tackle the problem.
The argument for increasing the proposed boundaries of the ULEZ is supported by the Campaign for Better Transport, which advocates expanding the zone to include all of the existing Low Emission Zone which covers most of Greater London.
Ms Russell said: "The reason for these meetings is to get the local community to engage and talk about these things.
"It is about making sure people have the information they need to make an informed decision in the interest of their health."
But she remained optimistic and commended the Mayor for his efforts in bringing about the ULEZ.
"We could end up with a city that is a really amazing place to live in," she said.
Ms Russell stressed that residents in outer London are encouraged to get in touch with her to discuss the impact of pollution in their local area.
Images courtesy of George Raszka/Caroline Russell, with thanks