Nick Clegg has mocked maverick Conservative candidate Zac Goldsmith's reliance on 'vast private wealth and handful of charm' ahead of the general election.
The Lib Dem leader was speaking at Richmond Adult Community College (RACC) during a whistle-stop tour of the country.
He praised Richmond Park's Liberal Democrat candidate Robin Meltzer and his commitment to opposing Heathrow Airport's third runway, something he said that Mr Goldsmith talked a lot about but his party didn't support.
He told SW Londoner: "Despite all the protestations from Zac Goldsmith the Conservative manifesto is completely silent on it.
"Robin has done an outstanding job campaigning against the third runway.
"Our manifesto said we will consider the results of the Davies Commission, but we are opposed to the expansion of Heathrow due to noise and air pollution and problems associated with it – why don't his own party commit to it in the manifesto?"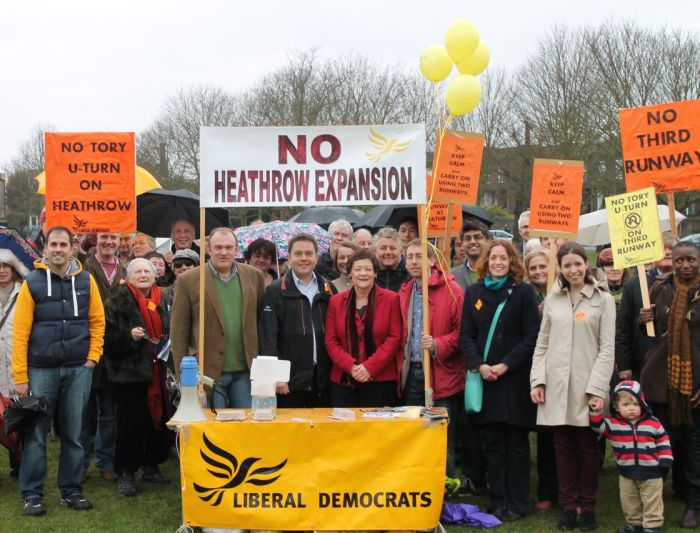 PROTEST: Richmond Lib Dem candidate campaigns against Heathrow expansion 
In addition to questioning the party's third runway stance the deputy prime minister made disparaging remarks about Mr Goldsmith's style of politics.
He said: "Zac Goldsmith thinks that a mixture of vast private wealth and a handful of charm is all you need to do but I think that good old-fashioned virtues of working hard and representing your constituency counts more than this.
"I've been on the receiving end of pompous vilification from Zac Goldsmith so it's about time he got a taste of his own medicine."
Thanks to so many for helping the campaign today. Am hugely grateful to you all. pic.twitter.com/6z8ASaCG9U

— Zac Goldsmith (@ZacGoldsmith) April 18, 2015
Mr Goldsmith told SW Londoner: "It's a silly and vindictive comment. The record shows that neighbouring Lib Dem MPs like Vince Cable have put far more of their own money into their campaigns than I have in mine.
"And even my political rivals here in this constituency – including the Lib Dem – have made the point in each of our hustings that while they disagree with my party, I have been a hard-working and responsive local MP.
"The Lib Dems are hoping that escalating their promises this time around will compensate for the fact that they made no effort to keep the ones they made last time – whether on political reform, nuclear power, animal welfare, tuition fees, justice, Heathrow expansion and so much else besides. It won't."
Picture courtesy of Policy Exchange, with thanks