A youth enterprise charity has nominated a Tooting designer for an Online Presence Award for her successful use of social media.
Samantha Warren, 31,  is a finalist for Wandsworth's Business Launch Pad's Online Presence Award.
Business Launch Pad is a youth enterprise charity that supports young people to set-up and run small businesses.
Samantha, who studied textiles at Middlesex University,  said: "It's brilliant to be nominated for the award."
Samantha designs and makes luxury printed accessories, selling them through her website and at various markets across London.
The Online Presence Award is for companies supported by Business Launch Pad who have an easy to use, well-designed website and a strong presence on social media.
Samantha said: "I mainly use Instagram just because it's so visual.
"I like to post my inspiration on there. It's good to have interaction with my customers too."
Samantha set up her business, Samantha Warren London, in 2013 after working for various high street brands, including Marks and Spencer.
Samantha creates everything in her own studio, that she calls a 'shudio'— a large shed at the bottom of her parent's house in Tooting— where she hand paints all of her designs and makes the bags, purses and scarves.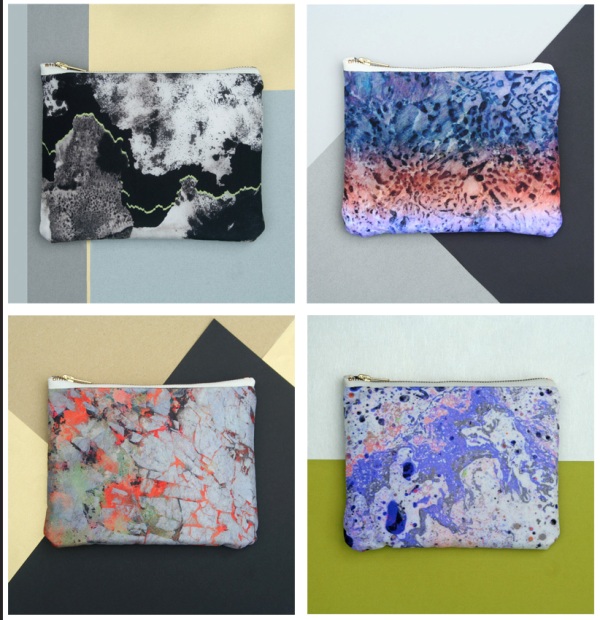 PRETTY PURSES: Inspired by Samatha's trip to Iceland
Samantha's designs are inspired by her travels and her latest collection comes from her trip to Iceland.
She said: "It's a response to the landscape. It's hard not to be inspired by Iceland.
"I don't seek out inspiration, it just comes from my love of travelling."
Business Launch Pad has mentored Samantha since March 2015, she said: "It really helped me in a business sense.
"I normally have a one-to-one session every 2-4 weeks. My mentor was really pushing me to go for it."
Samantha's creations will soon be stocked at the British Museum and the Fashion and Textile Museum in London.
Her next collection is inspired by a visit to the Rio Carnival in Brazil and is due to launch in March.
The award is voted for by the public and voting ends at 11.50pm on Monday February 29.
Image courtesy of Samantha Warren, with thanks