A carrot from Hampton Court broke the World Record for the fastest vegetable in a half-marathon last month.
James Whistler , a member of Ranelagh Harriers, took almost two minutes off the previous record at the River Thames Half-Marathon on October 30.
The 28 year old's official time was 1 hour, 24 minutes and 2 seconds.
The current world record, set by Ronnie Haynes at the Plymouth Half-Marathon on April 28, 2013, stands at 1 hour, 25 minutes and 59 seconds – and has stood for more than three and a half years.
James said: "I had been thinking about a World Record attempt for some time so I went to the Guinness Book of Records website to see if there were any records I thought were possible.
"I saw the record for the fastest vegetable in a half-marathon and thought it was achievable.
"That was also set by a carrot so I decided to attempt it as a carrot too because I think it is easier to break a world record that has already been set rather than attempt it as a different vegetable."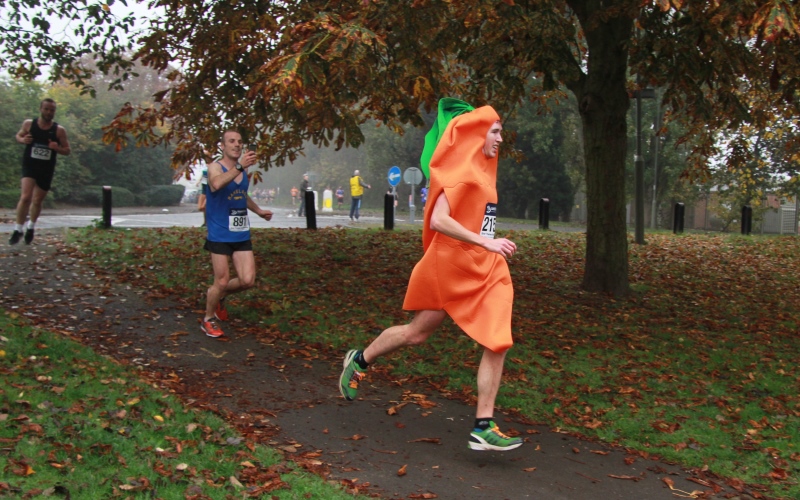 STEAMING AHEAD: Imagine being overtaken by a carrot
To be officially ratified, the record needs to be backed up by witness statements from two people, verified by race organisers and ran on a certified course.
James did his homework and chose the River Thames Half-Marathon which is a UKA certified course and predominately flat so favours a fast time.
The course runs along the south bank of the River Thames over mixed terrain, on public roads and along the Thames tow-path, starting and finishing in Walton-on-Thames and passing East and West Molesey.
James finished in a remarkable 29th position out of a total of 1,758 finishers.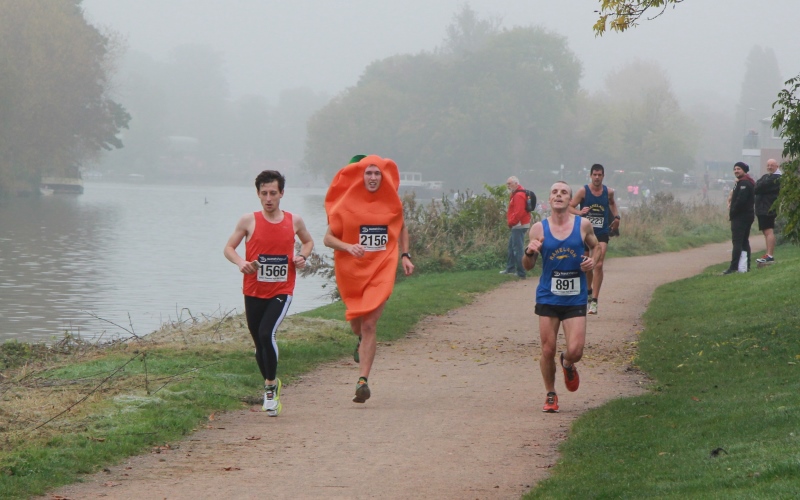 BOILING: It must have been hot in that suit
Mark Herbert and Jon Pepper were the independent witnesses for the World Record attempt.
Mark said: "The Guinness Book of Records has sent us forms to complete as witnesses to the record."
Jon joked: "I was unable to compete [for the record] as a pepper is in fact a fruit."
The ratification process will be completed within an estimated eight weeks.
James said: "I'm hoping that the record will be ratified before Christmas.
"It would be good to see the record up on the official Guinness Book of Records website at Christmas."
He said: "I'd like to attempt a World Record at the full marathon one day.
"I have no definite plans at the moment but it would be good to attempt a record in the London Marathon in the future."
[fvplayer src="http://swlold.tfdev.co.uk/wp-content/uploads/2016/11/13-Finish.mov" width="1920″ height="1080″]