A Wandsworth family who went for breakfast at McDonald's came back to find their home destroyed by fire on Saturday morning.
Firefighters were called to Wandsworth Bridge Road at 9.24am when passers-by spotted smoke billowing from a fifth-floor window.
A woman escaped the burning flat while her two children looked on from the street.
Local builder Marc Leleu-Branch said: "Two of our guys went to get teas in McDonalds and the family were in front of them.
"They came out and the kids were hysterical, screaming 'is our mum in there?' and the man was trying to calm them down."
Passer-by Danny Church was walking down the street when he noticed smoke coming from the flat.
"As I was standing at the bus stop these kids came forwards," he said.
"They were hysterical, frantically trying to do something about it but they were helpless. You instantly knew it was their house."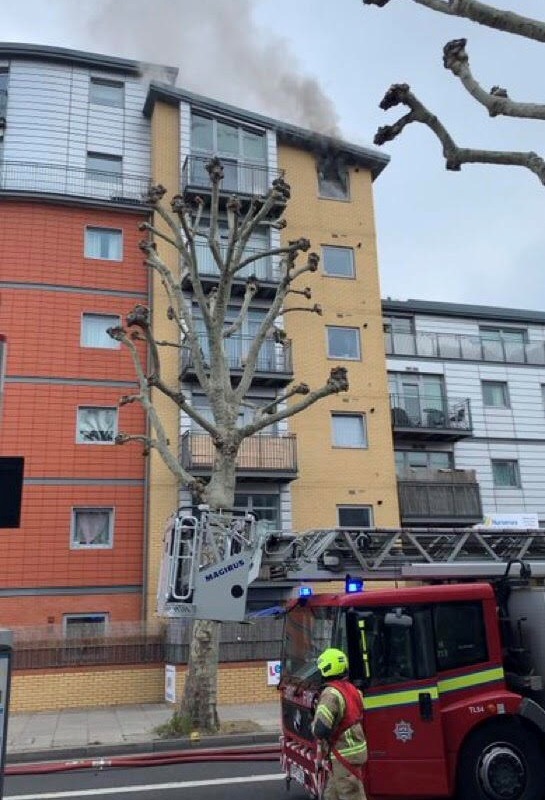 Mr Church, who took photos and video of the fire from the street, said it was shocking how quickly the incident developed.
"In five to ten minutes it went from normal smoke to the window shattering and a complete blaze," he said.
A total of 30 firefighters tackled the flames, which were put out by 10.25am.
No injuries were reported and the cause of the fire is still under investigation.
Photos and video courtesy of Dan Church via Twitter @ABitOfDan