A vigil in support of Julian Assange took place outside the Ecuadorian embassy in London on Friday, hours after Sweden dropped a sexual assault investigation against him.
The Metropolitan Police have confirmed that Mr Assange still faces arrest over breaching bail conditions should he leave the Embassy, despite the lifting of Sweden's European Arrest Warrant.
The 45-year-old WikiLeaks founder has been in self-imposed exile in the embassy, located in Kensington, for nearly five-years in fear of being extradited to Sweden or the United States.
Julian Assange Solidarity activist Emmy Butlin said: "I think it's very embarrassing for them.
"When the Metropolitan Police, strapped for cash during austerity years, has been spending upwards of £10 million on the surveillance of this embassy."
The Metropolitan police scaled down its permanent presence outside the embassy, the costs of which are believed to have exceeded £12 million, in building in 2015.
For the last five years, Ms Butlin's group have held weekly vigils in support of Mr Assange outside the embassy on Tuesdays through Thursdays, from 3pm to 5pm.
Addressing a crowd of journalists and supporters from the embassy balcony, Mr Assange said: "While today was an important victory, an important vindication, the war is far from over.
"The war, the proper war, is just commencing."
He added: "Seven years without charge while my children grew up without me. That is not something that I can forgive. That is not something I can forget."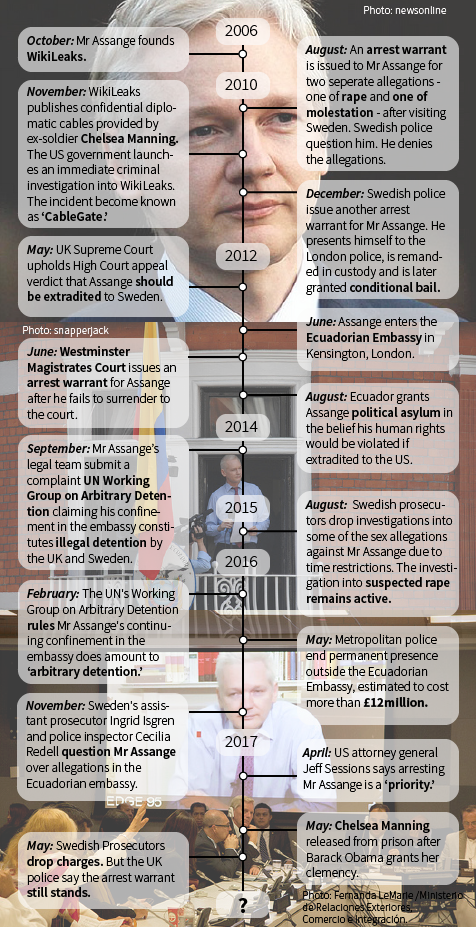 Mr Assange was held in isolation in Wandsworth Prison for 10 days, under investigation of sexual assault and rape allegations from two Swedish women, before being released on bail in December 2010.
He entered the Ecuador embassy in June 2012, where he has since remained, and was issued an arrest warrant after failing to appear at a Westminster Magistrates Court hearing.
Swedish prosecutors dropped the investigation on Friday after chief prosecutor Marianne Ny said there were no avenues left to pursue in a court document seen by Reuters.
But she said the case could be reopened if Mr Assange returns to Sweden before the statute of limitations end in August 2020.
Julian Assange solidarity activist Emmy Butlin, 47, said: "Today has every reason to be celebrated.
"But on the other hand, it is a very sobering moment to consider that seven years of his life have been wasted due to the actions, and inaction, of a Swedish prosecutor."