Spanish football giants Real Madrid are to open their first UK soccer school in Croydon aimed at disadvantaged children.
Club legend Emilio Butragueño – who made more than 300 appearances for the club between 1984 and 1995 – will unveil the new facility alongside London Mayor Sadiq Khan at The Cedars School in Coombe Road on Wednesday.
The project is a collaboration between the school, Real Madrid Foundation and Football for Unity, with support from the Kinetic Foundation.
Judy Wallis, club welfare officer at Kinetic, praised the Champions League winners for coming on board.
She said: "It's lovely to see such a huge club being so proactive in their foundation to put something like this in an area such as Croydon.
"Kids can turn up and play at the playing field at the back of the school and it's a great opportunity for kids to be proactive, learn football and learn the discipline of playing a sport."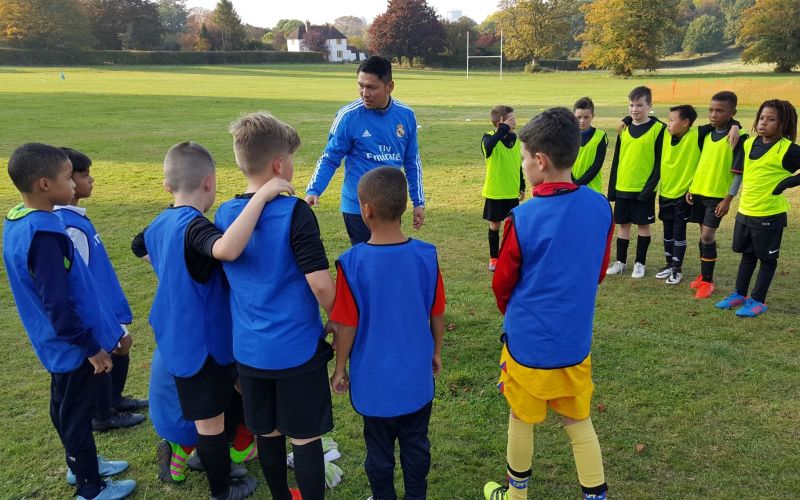 FUTURE GALATICOS: A Real  Madrid soccer school in action
The link with Croydon came about after a parent at a sister school to The Cedars had a connection with the Real Madrid Foundation, having previously set up another soccer school in Mexico.
The club have sports schools in 75 countries around the world involving more than 50,000 participants.
Parents, Children and Teachers in Partnership is the educational trust that runs The Cedars School  and was involved in setting up the Real Madrid link.
Their CEO Matthew Sherwood said: "Croydon is the ideal location because of the local need and the presence of suitable partners to operate the project at ground level."
Children at risk of exclusion will be specifically targeted with the project aiming to provide them with education in values through sport.
Mr Sherwood added: "A 'End Child Poverty' report identified three local wards as among the most deprived in London – Fieldway, Broad Green and New Addington.
"We are reaching out to schools in these areas to help us identify who will benefit the most from participation in such a project."
The free soccer sessions take place on Saturday mornings between 9.00-11.00am at The Cedars School and are led by coaches trained by Real Madrid.
All images courtesy of the Kinetic Foundation, with thanks