A Tooting shop has become the first in south London to start selling CBD 'buds' that look and smell like illegal street cannabis but which its owners claim are legal and do not offer any 'head high'.
Greenhouse CBD Specialists first opened in October on Tooting High Street in the back of a vape shop.
CBD 'buds', also referred to as 'flowers', are specifically grown to maximise levels of CBD (Cannabidiol) and keep THC (Tetrahydrocannabinol) below 0.2% – the plant's two primary compounds.
The widely advocated medical benefits of cannabis are attributed to CBD. It is legally sold in oil form on UK high streets, including in health food shop Holland and Barrett, and is commonly used to relieve symptoms of long-term illnesses such as multiple sclerosis.
Green House CBD Specialists does not offer medical advice and ensures the THC levels of their buds are below 0.2%, which it claims is the legal limit that allows the product to be sold as 'industrial hemp.'
Co-owner Arfan Khan said: "The oils have been around for quite some time but the format of the buds is a relatively new thing. We identified a gap and started the business. The proof is in the pudding. Our customers have been happy.
"When you light up, if you choose to do so, you will feel chilled out and relaxed from head down but you will not feel any form of 'head high'."
THC is the main psychoactive compound in cannabis that causes users to feel 'high'. 'Skunk' is THC-strong cannabis and research identifies it as a contributing factor to mental illnesses such as schizophrenia.

Rob Taylor, Mr Khan's fellow co-owner, said: "We get people from across the board like the grandma with arthritis who may have been on different medications for pain for quite some time and they're looking for something that is more natural and they perceive may help more.
"The current legislation puts a cap of 0.2% THC on it so this is classified as industrial hemp. It's not weed. This is hemp. This is CBD. This is not to get high.
"We go to great lengths to ensure not only the legality but the quality of our products. We put in that amount of work and effort to see our customers coming back and to see it actually making a difference for people."
The shop sells a range of other CBD products including oils, honey, beard oil, coffee, drinks, gummy chews and even dog treats.
Since November 1, UK doctors have been allowed to prescribe medical cannabis after a series of high profile cases involving children prompted Home Secretary Sajid Javid to introduce the change.
The policy has been criticised as ineffective since pharmacists have to get individual import licenses and the excessive cost to the patient means very few people can afford the treatment.
Mr Khan has hopes that if medical cannabis laws continue to be relaxed the shop could become an official supplier.
He said: "It's my personal opinion that the government is failing. For a while now the benefits that CBD brings to an individual have been identified. That's a fact. So why we're not making it available to help people on a larger scale is beyond my understanding.
"But in the meantime, if we can provide a product that is proven by the feedback to help people then I think we are doing a good deed. We are gearing ourselves up to be on their radar as a professional establishment. Should the laws change then we can get involved."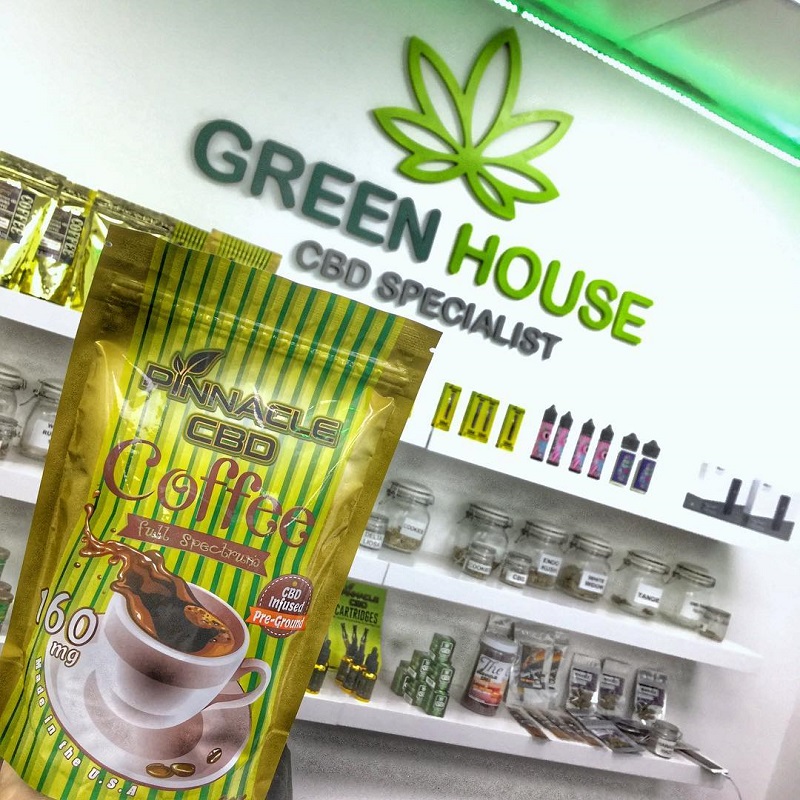 PICK ME UP: The shop offers a wide range of products.
Green House CBD Specialists recently opened a new branch in Putney on Upper Richmond road and plan to expand to Brixton this month.
'CBD buds' came onto the market earlier this year and are sold widely on the internet. Shops stocking the product, however, are relatively rare. A shop selling the buds in Plymouth was raided by Police in September.
The buds are generally produced in European countries like Switzerland and Holland.
A Home Office spokesperson said: "The law around cannabis is clear. People may choose to apply for a licence in order to use controlled parts of the plant to produce cannabis oil, but licences would only be granted where the products can lawfully be made available to the public.
"Prospective licensees should, before application, consult published guidance to ensure they are clear of their statutory duties and the products they intend to produce can be lawfully supplied."