Clusters of Extinction Rebellion climate activists once again blocked major traffic hotspots in London today to raise awareness about climate breakdown and ecological collapse.
At least four splinter groups from Extinction Rebellion blocked Lambeth Bridge and Vauxhall Bridge from around 7.30am, and caused gridlock at Earl's Court, Tower Bridge and Elephant & Castle.
Extinction Rebellion last Saturday blocked five bridges in the capital, leading to 82 arrests, but now the group are employing so-called swarm tactics to create wider disruption with small groups simultaneously targeting hotspots until Friday.
One of the organisers at Extinction Rebellion, Roger Hallam, said there would be no more arrests as the blockages were under an eight-minute legal limit for obstructing roads.
He said swarm theory had never been applied in an organised way before and called the movement 'the most important event of the 21st century'.
Following last Saturday's so-called Rebellion Day, the group says it is planning for a Rebellion Day 2 this coming Saturday in Parliament Square.
Commuters at Lambeth Bridge were angered over the blockages, getting out of their cars to hurl abuse at the protesters.
One cement truck driver said the blockages would make 'people hate you more'.
Extinction Rebellion activist Tamsin Omond said however the delay lasted for mere minutes, before protesters cleared the road and got ready for another cycle elsewhere.
She said the group's aim was to use the small disruptions to 'keep people safe from the massive disruption that climate change is causing'.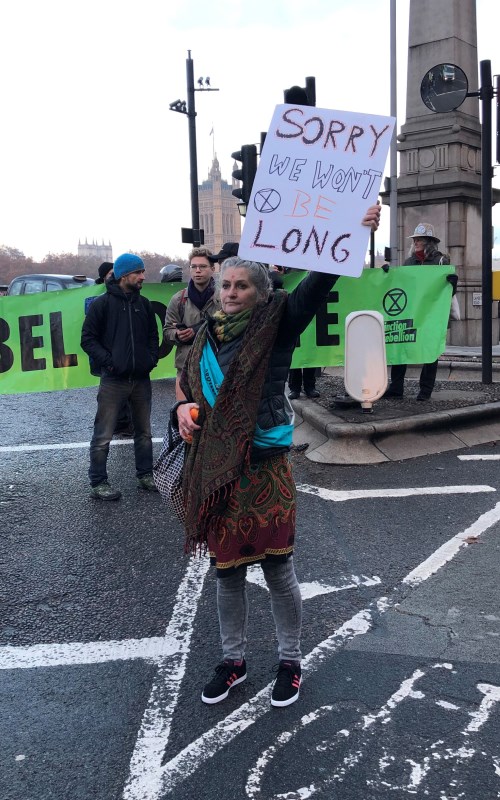 University student Lily took part in the road blockages at Lambeth Bridge and said it was her first protest event with Extinction Rebellion.
She said the huge forest fires in California, flash floods in Italy and the recent summer heatwave opened her eyes to climate change.
She said: "This is something everyone should be concerned about, but most people are just concerned about the day-to-day."
A spokesperson named George said the group is demanding the government enforce rapid decarbonisation to achieve zero emissions by 2025.
He said the IPCC report released last month gave world governments just 12 years to make an 'unprecedented change' in how they consume resources, and he called for a 'World War II level of mobilisation' to create a sustainable economy.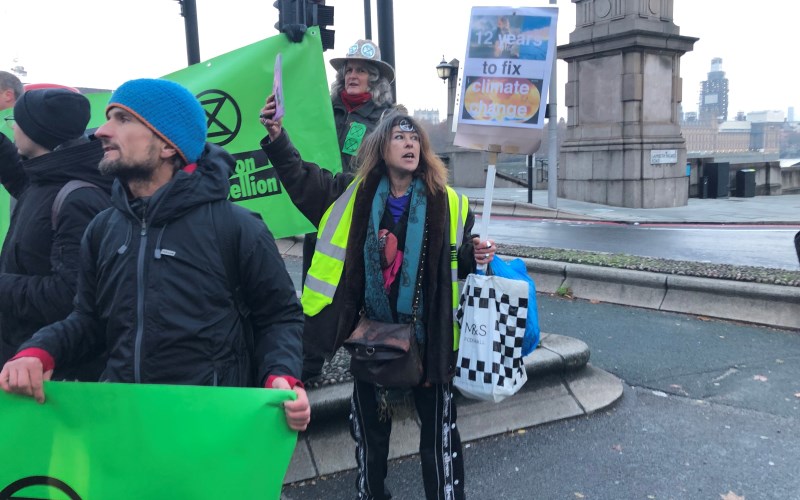 George compared the climate struggle to the suffragette and civil rights movements.
He added he didn't want to disrupt people's lives, but that just a few weeks of direct action had already brought the group national attention.
The mission was not shared by many commuters, however, one of whom complained about a number of children having to step off a bus and finish their journey to school on foot.
Another shouted that he couldn't 'go to work' and would not get paid.
The man urged the police to step in but was told by a police officer: "If you were protesting about something you have your right to express you views as well."
The group said it would curtail protests by 3pm today but similar disruptions are expected all week.