By
Ronan Barnard
September 21 2019, 16.45
Follow @SW_Londoner
Tens of thousands packed central London streets from Trafalgar Square to Westminster Abbey as schoolchildren led a global climate strike yesterday.
Teachers marched alongside uniformed pupils in support of the strike, while unions, politicians, and university students came out to show support for the striking children.
Students went on strike globally, calling for international action to prevent further climate change.
Julia Steinberger, one of the authors of the UN's latest climate change report, said: "I hope today will be a landmark, and that [the movement] keeps growing.
"One of the things that I believe, in terms of the magnitude of the transformation that's necessary, is that the transformation has to engage pretty much everybody's lives, either for good or for bad. We need to make this something that becomes part of our lives."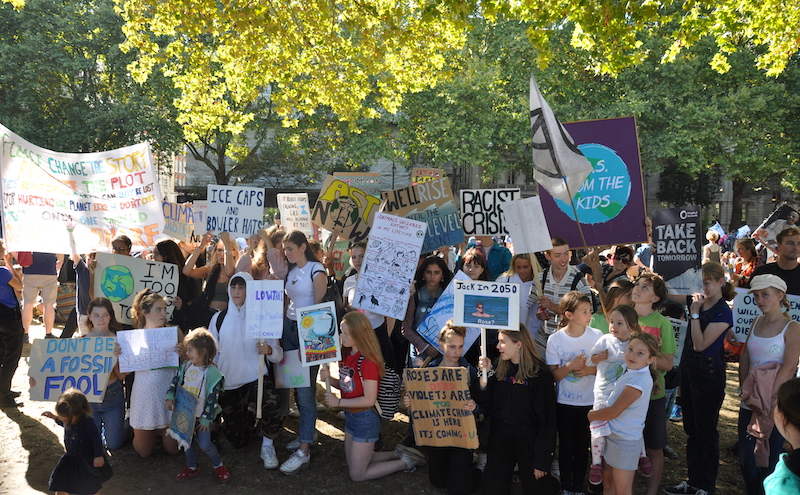 Children yelled chants and held up homemade placards calling for swift reductions in global carbon emissions, and a transformation of the economy to protect the environment.
Labour's Jeremy Corbyn and the Greens' Caroline Lucas addressed a crowd of thousands from an open top double decker on Millbank.
Corbyn called for a 'green industrial revolution': "That green industrial revolution can bring about, I believe, 400,000 decent, high-quality jobs. And with that we also have cleaner air, we have a better quality of life, and we deal with many of the health inequalities that exist in this country."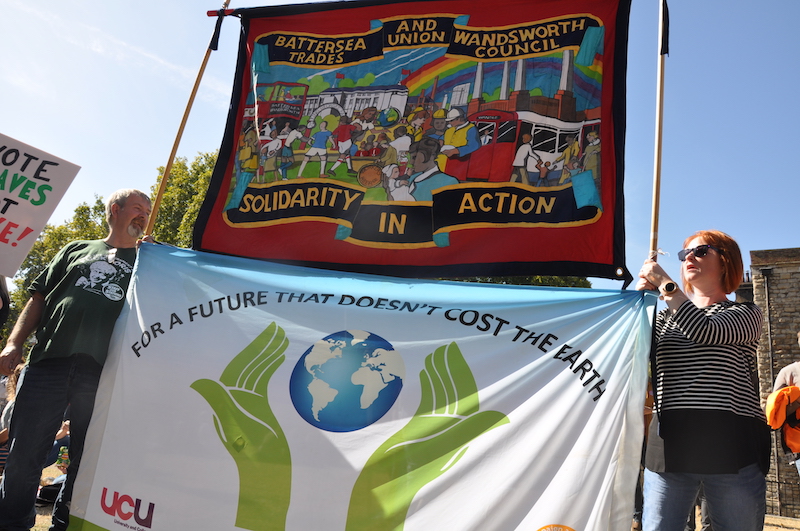 Unions marched in support of the strikers, calling for the right to strike for political causes, such climate change.
Steven Wood, 31, a Finsbury Park RMT member, said: "For us as transport workers in particular, we've got a key part to play in the fight against climate change.
"As trade unionists, we're not able to take strike action legally over political issues and support climate change action, we think we should be able to. So, it's important for us to come and show our support for the climate strikers, and say that transport workers back you, and we hope that they'll back us when we do go on strike.
"We obviously have a huge amount of power, a strike like this has been hugely disruptive for London. We know when we go on strike it costs the economy, according to our bosses and the Evening Standard, about £190 billion per day. We know as workers we have huge power to interrupt the system, and get people to listen to us."
Activist group Extinction Rebellion also held small meetings across Parliament Square before the march, and clashed with police on the Strand after breaking legal restrictions.
The movement also called for more schools to allow teachers to strike with their pupils.
Poppy Stockbridge, 24, an Extinction Rebellion spokesperson, said: "You are established members of the educational community, you ought to be there supporting them, if your vested interests are not in your pupils' futures then what the f*** are you doing with your life.
"It's a national emergency, the fact that the adults and the parents of these children aren't on strike just makes no sense to me."
The demonstration lasted until 5pm, when police blocked Northumberland Avenue to marching protesters.