A lecturer who was battered by a gang and won a High Court ruling to prevent Wimbledon Police Station shutting said if it had closed he would be dead.
Paul Kohler, 59, claims the only reason he survived a ferocious beating by a gang in 2014 was because officers reached his home within eight minutes of a 999 call made by his daughter.
Yesterday, in a judicial review, Lord Justice Lindblom and Mr Justice Lewis said the decision to close Wimbledon police station was unlawful and must be reconsidered.
Mr Kohler said: "I'm sure I'd be dead because the gang were bashing the door down on my head as the police officers ran through the door."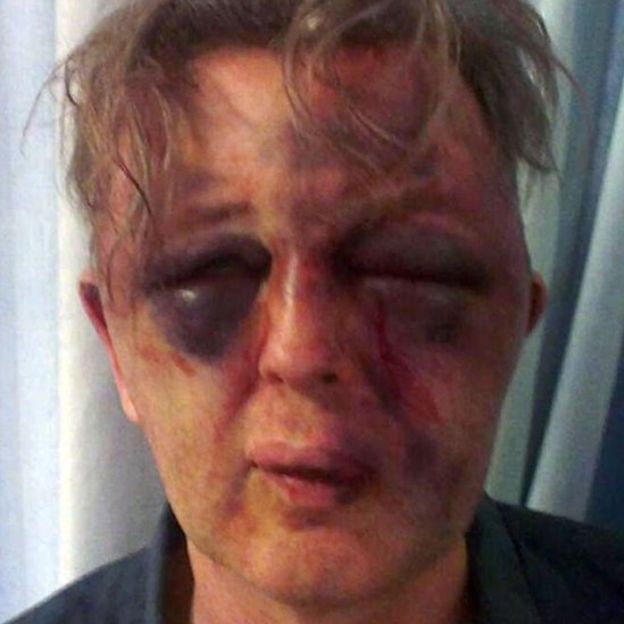 HORRIFIC ORDEAL: Paul Kohler's injuries after 2014 attack
Mr Kohler, a university lecturer of Kings Road Wimbledon, was attacked by four men in his home and suffered permanent double vision.
His battered face made national headlines and he credits the bravery of Wimbledon police station officers for saving his life.
"Some say police officers are just in cars on the beat, but that's total rubbish, I see how many people charge out of that police station each day," he said.
Mr Kohler's injuries included a fractured eye socket, broken nose and severe internal bleeding in the attack.
Four Polish men, Mariusz Tomaszewski, 32, Pawel Honc, 24, Dawid Tychon, 29, and Oskar Pawlowichz, 30, all pleaded guilty at Kingston Crown Court to aggravated burglary.
Tomaszewski and Honc also pleaded guilty to GBH.
All four men received jail terms of between 13 and 19 years.
Mr Kohler now plans a public meeting later this summer to discuss how the community respond to the court ruling and proceed in future.
"No one's saying let's keep the same building, it's past its sell by date, we're not sitting here like luddites," Mr Kohler said.
Asked if the police needed a Wimbledon base, he replied: "Yes, Mitcham is 20 minutes away."
Mr Kohler's hopes to challenge plans by the London Mayor's Office for Policing and Crime (MOPAC) to close another 36 of the 73 police stations across the capital were rejected.
He added: "It's bittersweet. My primary aim was to maintain Wimbledon station, but I feel for many other people in other boroughs."
A spokesperson for the Mayor of London said: "The money saved from closing the front counters will instead be used to protect frontline policing as much as possible.
"On just one point, the court has required MOPAC to reconsider the closure of Wimbledon police station and MOPAC will do this in due course."
Mr Kohler said the police station was needed because Wimbledon's nightlife, status as a transport hub and tennis history, as well as the return of league football meant the police station was vital to keep the area low crime.
Metropolitan Police Deputy Assistant Commissioner Mark Simmons said: "Overall we are pleased with the judgement and happy that we can now continue our wider transformation programme – acknowledging that the decision regarding Wimbledon Police Station requires some reconsideration by the Mayor's Office for Policing And Crime."
The Merton Chamber of Commerce tweeted: "Wimbledon Police Station sounds like it's got a bit of a reprieve. Well done all and Paul Kohler for the High Court appeal."
Mr Kohler added: "I've had nothing but support from the local community, the other day a police officer stopped, got out and shook my hand."