The Royal Parks charity has confirmed that dogs will be required to be on a lead in all areas of Richmond and Bushy Parks from 1 May until 31 July during the deer birthing season to protect both animals.
In a press release on 21 April, the Royal Parks confirmed that the policy will be brought in because around 300 deer will be born in the parks during that time period, making it "a vulnerable time for female deer, who hide their young in bracken and long grass to conceal them from dogs and other perceived predators."
The policy will also be introduced by Neighbouring Home Park (Hampton Court Park), cared for by the independent charity Historic Royal Palaces, as they expect 120 deer to be born during that period.
The charity confirmed that since the beginning of 2022, there have been more than 50 incidents recorded of dogs chasing deer in Bushy and Richmond Parks, with over 26 in March alone, the most since centralised records were first introduced.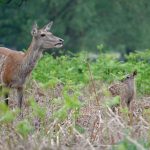 The policy was in practice last year and there was a 92% drop in reports of dogs chasing deer in Richmond and Bushy Parks, with only two incidents in three months.
In the statement, Simon Richards, Park Manager for Richmond Park, said: "We are introducing this measure for deer welfare reasons in what is the most vulnerable time of year for these animals. This measure also protects dogs.
"Deer are instinctively frightened of dogs, but when they enter birthing season, this fear takes on a new dimension. Female deer are afraid of dogs harming their young and, as a result, they will be on high alert and can display defensive behaviour. In previous years, female deer have been known to give chase and attack, even if the dog is at a distance and not acting provocatively. This can be extremely frightening to witness, particularly for the dog's owner."
The charity warned that having dogs on a lead does not completely eliminate risk of danger, and explained that the safest option during the time period is to exercise dogs elsewhere.
Richards added: "Although deer are instinctively frightened of dogs, they will overcome this fear if they consider their young to be at risk. During last year's deer birthing season, we were alerted to over 40 incidents of female deer shadowing dog walkers in Richmond and Bushy Parks.
"In addition to having their dogs on leads, it's important that dog walkers remain vigilant, avoid areas of long grass and bracken, and stick to the perimeter of the park."