Extinction Rebellion activists were forcibly ejected from the Wandsworth Conservatives campaign launch event on Thursday night after they interrupted a speech by Nadhim Zahawi MP.
Janet Storey, 56, and Matt Palmer, 49, waited for the Secretary of Education to start his speech before unfurling a banner reading "NO PLANET B" at the event held at Joe Macari Performance Cars, a Ferrari and Maserati dealership in Wandsworth.
Wandsworth Extinction Rebellion has criticised Wandsworth Conservatives, which has held a council majority since 1978, for not doing enough to tackle climate change after it declared a climate emergency in 2019.
Janet Storey, a member of sister group Plastics Rebellion, said: "If you're going to take the climate emergency seriously, why would you launch your campaign in a car showroom?"
A video uploaded to social media shows attendees grabbing the XR activists in what the organisation has called "totally unnecessary and unwarranted violence."
Storey said: "We were expecting them to be displeased because we interrupted Nadhim Zahawi's speech, but we did think that their first port of call might be to call security instead of just piling in themselves."
A protester's clothing was ripped and she said the security team was forced to intervene to calm the attendees down.
Palmer said: "I've been in this situation lots of times before and normally, security people are verbally forceful and they might grab you, but they're actually normally quite respectful, whereas I think these two were just delegates or members."
Storey said: "They weren't playing by the Queensberry rules, more like the Mansion House rules," referring to the forceful removal of Greenpeace protesters from a speech by Phillip Hammond at Mansion House in 2019.
A Wandsworth Conservatives spokesperson said: "Protestors gained access to a private event and became disruptive during the speeches. They were escorted from the premises by our professional event security team."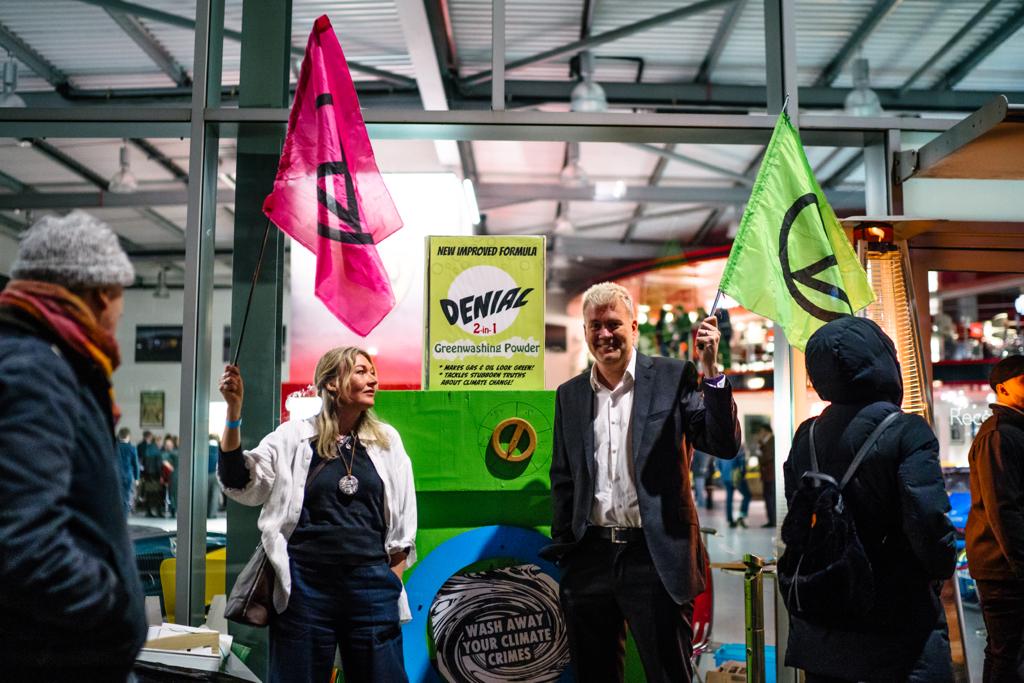 The activists hope the council will listen to Extinction Rebellion's concerns in the future as they claim Cllr Rosemary Burchill promised to arrange a meeting between them and Cllr Kim Caddy, Deputy Leader of the Council, to discuss the council's response to the climate emergency.
Storey said: "I hope that it wasn't an empty promise because it's what we've been pushing for for over a year now."
Wandsworth Council published its Air Quality Action Plan last October after reports of high levels of air pollution in the borough.
In December 2021, The Putney Society found that the levels of Nitrous oxide on Putney High Street were 60% above the UK legal limit and six times higher than World Health Organisation recommendation.
While Wandsworth Council aims to reduce this to the UK legal limit by 2025, pedestrians on Putney High Street would still inhale four times more NO2 than the WHO recommends.
Wandsworth Conservatives held the event at Joe Macari Performance Cars on Thursday night to launch their local election campaign ahead of the elections on May 5 this year.
The Wandsworth car dealership lists a range of sports cars costing between £38,950 and £699,950.
Entrance to the event cost £40 to £50 for regular tickets, with £100 VIP tickets available for an exclusive reception with Nadhim Zahawi.
A raffle and auction was also held, including prizes such as a week in a waterside holiday house near St Tropez and the opportunity to walk Boris Johnson's dog, Dilyn, around St James's Park.
Labour councillors have criticised Wandsworth Conservatives for its choice of location.
Clare Fraser, Cllr for Tooting Bec and Balham, said: "For Wandsworth Conservatives the climate emergency is simply a catchy headline. A fundraiser with a load of gas guzzling luxury vehicles is completely out of touch."
Wandsworth Labour held its local election campaign launch in St George's Park on January 29 and it was free for the public to attend.