Proposed changes to river season dates which could leave rivers open all year around are unlikely to affect fishing on the Thames, according to a policy advisor to the UK's largest angling association.
The Environment Agency (EA) is consulting anglers in England and Wales on behalf of the government about the future of the coarse fishing – covering all freshwater fish apart from trout and salmon. Currently the close season – when anglers are not allowed to fish on rivers to protect fish weakened by exertions of spawning – forbids angling in rivers like the Thames between 15 March to 15 June.
Last year 49.6% of 5,147 anglers who took part in an EA survey said they would like a change, while 42.5% wanted to retain the status quo. A third of those wanting change favoured abolishing the close season and 16.7% preferred alteration to the current season start and end dates.
Martin Salter, chief policy advisor to the Angling Trust, an organisation representing all types of anglers in England and Wales, said Thames anglers probably mirror the views of anglers nationwide.
"The pressure for changing or abolishing the season tends to come more from Midlands, from rivers like the Wye and Severn. These rivers in wet winters can be unfishable for three to four months at a time. Rivers can be flooded almost permanently so they only have a five month fishing season," he said.
But the Thames does not usually suffer from such severe flooding.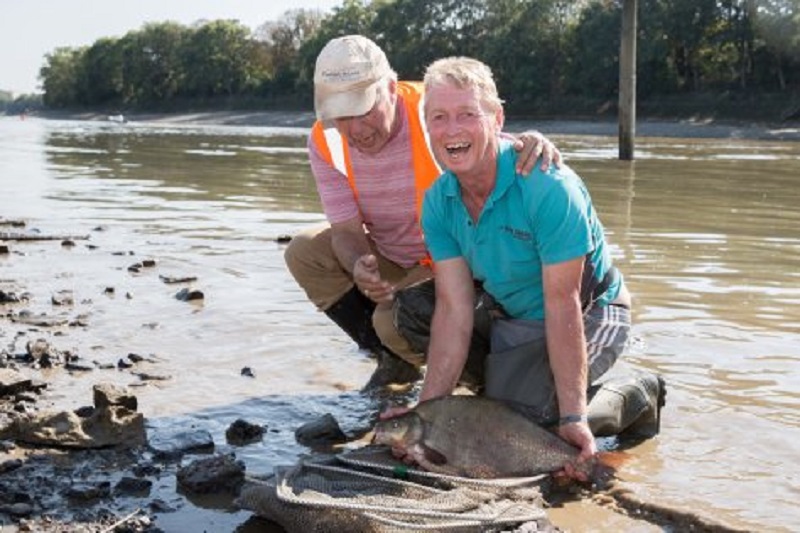 WHAT A CATCH: At the Tidefest Angling Championship 2018. Credit Anna Kunst Photography.
"I think Thames anglers are probably very similar in their views to a lot of other anglers. There's strong backing for all three options," he added.
Changes to or abolition of the close season could see more young anglers on the Thames, he believes.
"The way the current close season is, we miss the opportunity to get children into angling during the Easter holidays. One of the advantages of moving the dates is that it would be much easier to introduce youngsters to the sport," he said.
The Angling Trust does not take sides in the debate, but Mr Salter personally thinks fish in the Thames would not be harmed if fishing was allowed during spawning because of its depth.
"I think it is very unlikely that the big rivers would be affected by anglers during the spawning period. The concern is about spawning sites in smaller rivers," he said.
Thames tributaries such as the Wandle or the Crane could fall into this category.
"The spawning grounds on these rivers are much easier to disturb," he added.
A longer fishing season would boost fishing companies such as tackle shops.
"There is no doubt about it. If there was more fishing there would be some benefit to the trade. But the consultation is not about economics; it's about what is good for the fish," he said.
Anglers in London have other issues to contend with, says Mr Salter.
"A real problem in London is access to rivers. Along the Thames there is excellent fishing, from Hammersmith to Teddington Lock. Trying to get your car anywhere near the river is very difficult. Parking rules seem to discriminate against people that want to stay for more than three hours. We need to be able to park for five or six hours," he said.
Anglers have until 11 March to say whether they would like to keep the season how it is, abolish it or move the dates to 15 April to 30 June.
Feature image credit: Anna Kunst Photography.