South west London is celebrating Black History Month in full force, so SWL has put together a list of the top events, activities and celebrations across the different boroughs this month.
RICHMOND
Riverside Gallery Silent Auction – Monday 18 October
Attend a silent auction hosted by St Mary's University students to open their art exhibition residency at the Riverside Gallery in the Old Town Hall (Whittaker Avenue, Richmond, TW9 1TP) until Sunday 31 October.
You can view artwork by students of St Mary's and local schools that celebrates Black History and culture.
See Black History Month events – London Borough of Richmond upon Thames for more information.
Project X Song
Project X – Achieving for Children's youth service that aims to reduce serious youth violence and knife crime in the Richmond and Kingston boroughs through organised positive activities will be releasing a nine-minute song that refers to George Floyd.
In the song young people from all backgrounds talk about situations in life where they felt they were unable to breathe or felt trapped.
Healthwatch Richmond – Tuesday 26 October
There will be a Black History Month celebration at York House.
The event will celebrate black contributions to the borough and will include free flowing food and drink, appreciation of black history and literature, and speeches from community leaders.
There will also be some information stalls hosted by the NHS Healthwatch Richmond and others.
Time: 6.00pm – 8.30pm
Location: York House, Richmond Road, Twickenham, TW1 3AA
Register your place at Celebrating Black History Month in the London Borough of Richmond Tickets, Tue 26 Oct 2021 at 18:00 | Eventbrite
MERTON
Author Noo Saro-Wiwa Talk – Thursday 28 October
Join Noo Saro-Wiwa, author of Looking for Transwonderland: Travels in Nigeria for a talk at Wimbledon Library.
Noo Saro-Wiwa was born in Nigeria and raised in England and Looking for Transwonderland, her first book, was selected as BBC Radio 4's Book of the Week in 2012 and was named The Sunday Times Travel Book of the Year, 2012.
It has been translated into French and Italian.
Noo writes book reviews and travel and opinion articles for several publications including Conde Nast Traveller, The Guardian, The Times Library Supplement and City AM.
Time: 6.00pm – 7.00pm
Location: Wimbledon Library, 35 Wimbledon Hill Road, London, SW19 7NB
Book your place at The Source Of It All: Travels in the Niger Delta with writer Noo Saro-Wiwa Tickets, Thu 28 Oct 2021 at 18:00 | Eventbrite
CROYDON
Kwayme & The End Of Summer Lockdown 2021 – Friday 29 October
The Black Men's Consortium in association with the Fathers Forum and Croydon BME Forum presents Kwayme & The End of Summer Lockdown 2021, an interactive theatre performance and community dialogue that was written and produced by black men.
The live performance will aim to connect with the audience and open a dialogue about how black men can move forwards with personal and collective action around their mental health.
Time: Doors open at 6.30pm, performance will start at 7pm
Location: The Front Room, 37-39 St George's Walk, Croydon, CR0 1YL
Book ticket at Kwame & the end of summer lockdown 2021 Tickets, Fri 29 Oct 2021 at 19:00 | Eventbrite
Croydon College Vox Pop
Following the 'Proud 2 Be' theme of Black History Month 2021, Croydon College's Creative Arts Department is creating a 10-minute vox pop alongside Croydon BME Forum and photographer John Matthews, which aims to spark impactful conversation and celebrate the culture and heritage of Black British people at the college.
The video will be hosted both online and at in-person events as part of Black History Month.
Proud To Be a Black Woman – Friday 29 October
The Croydon BME Forum will be sharing their proud to be stories as black women in Croydon.
The event will include live music, poetry and a special guest (to be confirmed) and much more. For those unable to attend it will be livestreamed on Croydon BME Forum's YouTube channel.
Time: 6pm – 8pm
Location: The Wellness Centre inside the Whitgift Shopping Centre, First Floor, Unit 10440/42, CR0 1LP
Book ticket at Proud to be a Black Woman Tickets, Fri 29 Oct 2021 at 18:00 | Eventbrite
WANDSWORTH
Wandsworth Council Panel Discussion Event – Thursday 21 October
Wandsworth Council will host a celebration of black enterprise in the borough with a panel discussion event and reception hosted by the BBC presenter Jacqueline Shepherd featuring past and present business owners.
The panel will feature:
Neomi Bennett – a practicing registered nurse, who served on the frontline during the peak of the pandemic. She is also the founder of Neo-Slip, an innovative and practical solution that aids application of hospital and travel stockings. Neo-Slip has developed into a highly successful enterprise.
Charlie Phillips – a Jamaican born photographer, who in the late 1980s opened Smokey Joe's, a Caribbean diner in Wandsworth despite his bank manager refusing to give him a loan. He ran the diner for 11 years.
Troy and Jarrell Johnson, siblings from Tooting, who launched Juicy Jerk as a home cooking business in 2017 before moving into street food vending. This year they made history by becoming the first Caribbean food caterer to hold a spot in the Selfridges food hall.
The panel will discuss issues such as how starting a business in the borough today compares to launching one in the '80s and how their heritage has influenced their business.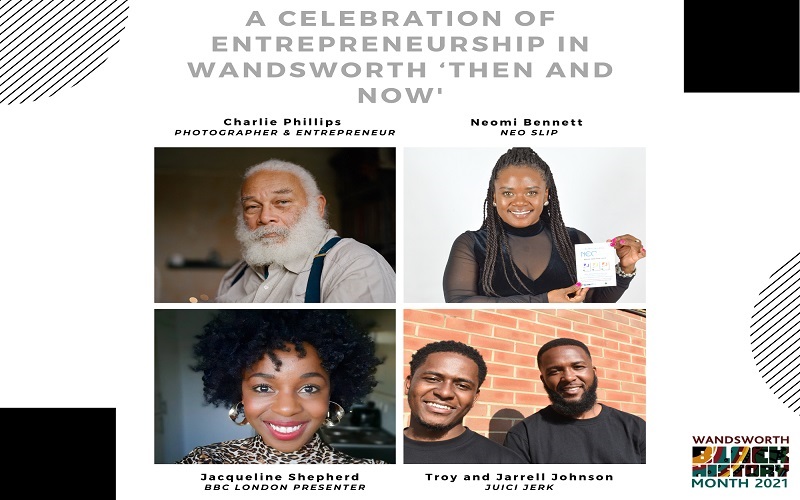 Time: 6.30pm – 8.30pm
Location: Battersea Arts Centre, Lavender Hill, SW11 5TN
Book your place at https://www.eventbrite.co.uk/e/be-inspired-by-black-entrepreneurship-in-wandsworth-then-and-now-tickets-172884571407
Ubuntu Museum Recycled Arts and Crafts Workshop – Monday 25 October
Ubuntu Museum will hold a recycled arts and crafts workshop with a mini exhibition at Roehampton Library for people of all ages.
The workshop will draw inspiration from the artwork of Romuald Hazoume, a Yoruba artist from the Republic of Benin.
Hazoume uses old jerry cans and everyday materials to tell stories and participants of the workshop can tell their own stories using recycled materials too.
The artist touches on social issues like the extensive reach and impact of Western-generated consumer culture on African countries.
The workshop seeks to make young people aware of the need to recycle, reinvent and reuse.
Time: 2.30pm – 4pm
Location: Roehampton Library, 2 Danebury Avenue, London, SW15 5HD
Email @[email protected] to book a space or call 020 8246 6979
KINGSTON
The Black Creatives Link Up – Wednesday 27 October
Kingston University London's Union of Kingston Students will host a night of celebration, music, food and live performances from talented Black artists in collaboration with Suya Pit, a Black-owned Nigerian restaurant.
Time: 7.00pm-10.00pm
Location: Not My Beautiful House, 19-23 Fife Road, KT1 1SB
See The black creatives link up @ Union of Kingston Students for more information
KENSINGTON & CHELSEA
Black History Month Awards 2021
This year 22 projects were awarded funding by the Royal Borough of Kensington and Chelsea Council to support their Black History Month activities which involve music, food and art.
See Black History Month | Royal Borough of Kensington and Chelsea (rbkc.gov.uk) for the full list.
Late Night Jazz: Deelee Dube – Thursday 28 October
Deelee Dube, the first and only British winner of the 2016 Sarah Vaughan International Jazz Vocal Competition, will present a live performance of some of her most loved jazz, blues and Latin classics as well as some new arrangements and compositions.
Performance starts at 9.30pm
Location: The Royal Albert Hall, Kensington Gore, London, SW7 2AP
Book ticket at Late Night Jazz: Deelee Dubé | Royal Albert Hall — Royal Albert Hall
HAMMERSMITH & FULHAM
Black Pound Day Pop-Up Shop at Westfield London, White City
To celebrate Black History Month Westfield London in White City is housing a Black Pound Day pop-up shop that showcases exclusively Black-owned brands and businesses in one shop featuring products including skincare and makeup, clothing, jewellery and candles.
Black Pound Day is the UK's biggest Black-led economic movement and it aims to support the growth of the UK Black economy.
The pop-up shop is open 10pm – 7pm Monday-Saturday and 10am – 5pm on Sunday.
Location: Ground floor of Westfield London, Ariel Way, Shepherd's Bush, London, W12 7GF.
Black Voices Concert – Saturday 23 October
Black Voices, formed in 1987, has gained a reputation as Europe's finest female acapella quintet.
The group sings and performs in the black oral tradition – an early music form that is based on the ancient folklores and storytelling of Africa which has impacted on the development of classical and more modern music genres such as blues and jazz.
Black Voices will perform in Hammersmith on October 23.
Time: 5:00pm – 6.30pm
Venue: 245, 245 Hammersmith Road, London, W6 8PW
Buy ticket at BLACK VOICES (PM) – MAX@245 in assoc with Legal and General Mitsubishi Tickets, Sat 23 Oct 2021 at 17:00 | Eventbrite
SUTTON
Africa's Kings & Queens – Saturday 23 October
Sutton African & Caribbean Cultural Organisation will host its Africa's Kings & Queens event to celebrate culture, creativity and music.
Children will wear traditional Kente robes and learn to play the Djembe and compose a drumming soundtrack.
Time: 10.00am – 2.00pm
Location: Community Space, Sutton Central Library, Saint Nicholas Way, Sutton, SM1 1EA
Register your place at Half Term -Africa's Kings & Queens Experience for Children ages 4-9 years Tickets, Sat 23 Oct 2021 at 10:00 | Eventbrite
LAMBETH
Black Business Fair – Thursday 21 October
Start-Up in London Libraries Lambeth will host a Black Business Fair where it will provide a wide range of diverse stalls from local entrepreneurs, founders and community start-ups presenting their goods, products and services.
Start-Up supports early stage and aspiring entrepreneurs through a network of business support that is accessible online across ten London boroughs.
Time: 12.00pm – 6.30pm
Location: Brixton Library, Brixton Oval, London, SW2 1JQ
For more details email [email protected]
492 Korna Klub's Human Library Windrush Performance – Thursday 28 October
This free in-person community event will showcase Windrush elders and their kin (as human books) sharing their stories of Windrush to audiences who will learn and discover unique and memorable stories.
Performances will either be on a one-to-one basic or in a group format with a library of people.
Time: 6.00pm – 8.00pm
Location: Brixton Library, Brixton Oval, London, SW2 1JQ
Register your place at Windrush 'Human Library' Performance Tickets, Thu 28 Oct 2021 at 18:00 | Eventbrite