By Shaneezah Ally
October 18 2019, 20.35
Follow @SW_Londoner
A product designer began tackling a growing litter problem by installing pink recycling bins made of used chewing gum in Wandsworth last month.
Gumdrop Ltd aims is to tackle the global issue of chewing gum litter and to encourage responsible disposal with a closed loop recycling process.
The bins are designed to replicate a colourful strawberry flavoured bubblegum and are installed outside Clapham Junction and Tooting Broadway stations.
Anna Bullus, founder and managing director of Gumdrop Ltd, said: "Many people are amazed when you tell them that the cost of removing one piece of gum is between 30p and £1.50.
"I have always had a passion for recycling and the environment and therefore embarked on a project trying to understand what initiatives existed to reuse and recycle these litters."
Gumdrop is the first company in the world to recycle and process chewing gum into a range of compounds including plastic and rubber known as Gum-Tec.
Plastic products like wellington boots, stationery, packaging and mobile phone covers can also be manufactured.
Mrs Bullus said: "After delving into the chemistry of chewing gum, I discovered that it is made with synthetic rubber. This made me think that gum litter could be utilised to create a versatile material that could be used to manufacture plastic and rubber products.
"In turn reducing the amount of virgin polymers and oil being used in manufacturing."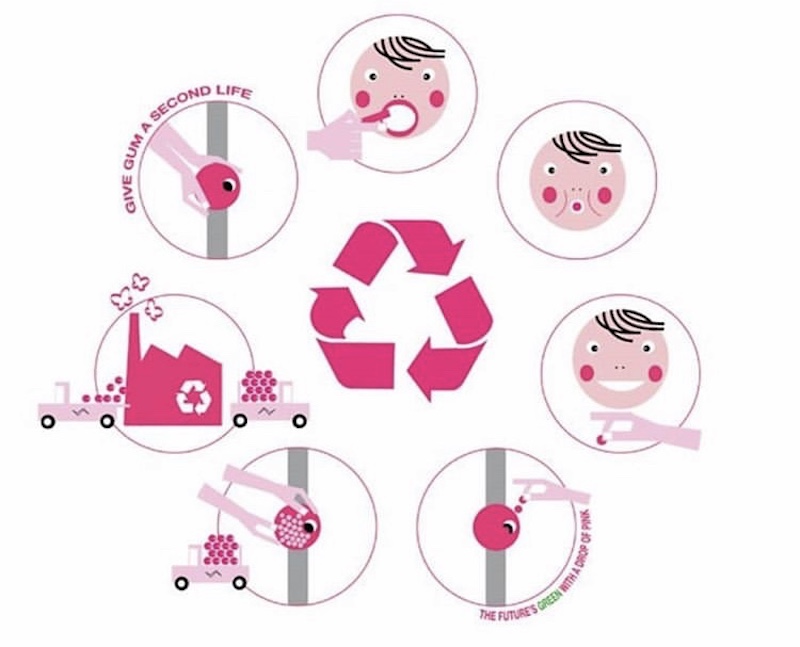 Once the Gumdrop is full, the whole Gumdrop along with its contents of waste is recycled and three new Gumdrops are created, this cycle will then be repeated.
According to Gumdrop it costs councils £150 million pounds a year to remove chewing gum litter from our streets in the UK.
She said: "I love that we look for and create innovation every day, in order to inspire the public to think twice when it comes to litter, in particular gum litter."
According to Gumdrop, the company is saving around half a million pounds a year on cleaning bills and has proven to reduce gum litter by 46% in the first 12 weeks of use.
Wandsworth's environment spokesman Councillor Steffi Sutters said: "There just isn't the opportunity to recycle your chewing gum anywhere.
"But by providing these striking bins we are giving people something to use to get rid of their gum and something which will improve their local environment."
Gumdrop has over 750 locations in the UK, if the bins around the two stations are a success, the council have said that the scheme could be rolled out across the borough.
All images: Gumdrop Ltd, with thanks