National treasure Clare Balding discussed her career and new memoir Walking Home: My Family and Other Rambles at a packed-out Wimbledon event.
As expected, there was plenty of comic content as the award-winning broadcaster opened up to reveal all about her sports career and beloved hobby rambling.
"The basis of the book is the people I've walked with and the places I've been.
"But given that My animals and other family was such a huge success, I realised that people really like it when I take the mickey out of my family. So I thought 'we'll do that again," she deadpanned.
The former jockey stole the nation's hearts during London 2012 but broke into broadcasting with Radio Four walking show Ramblings almost 15 years ago and has been working her media magic ever since.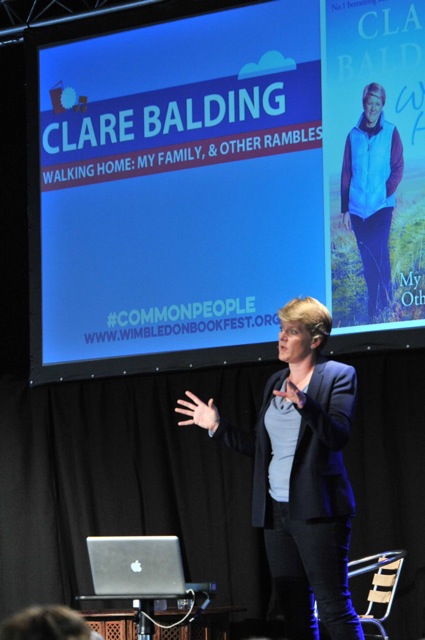 "That's always my rule with any work offer. Is it interesting? Will it take me places I haven't been before, literally or metaphorically," she explained.
"Will it make me better as a broadcaster and am I going to enjoy it? And essentially Ramblings ticked all those boxes. So I said yes [to producer Lucy Lunt] and here we are."
The first bestselling book was an honest, warm-witted appraisal of Ms Balding's eccentric family and her second, out now, details how walking changed her life.
She estimates that she's probably walked 1,800 miles on the radio show as they walk six to seven miles on average per episode and there are three series of six episodes each per year.
"My father still hasn't listened to it ever, my mother listened very early on and she said 'yes, you're very out of breath. Don't you think it would be better to just stop and get your breath back?'" she remembered.
Ramblings has taken Balding across Britain and Ireland and thrown up some wonderful guests, stories and walking theories which the new book considers with personal photographs.
She climbed the beautiful Slieve Binnian, one of the Mourne Mountains which inspired C.S.Lewis' Narina, with The Wee Binnians walking group, the largest in Northen Ireland.
Then there was Michael, the barefoot walking evangelist who believes 'earthing' himself cured his crippling depression.
"We're in the moorlands and he says 'are you going to give it a go?' and I said 'yes of course' and its very cold and muddy and there's lots of sheep and rabbit poo. But anyway at least that's warm, that's fine," she joked.
Ms Balding discovered backwards walking while filming Operation Wild for the BBC in China, much to her partner Alice's embarrassment and fellow broadcaster Anneka Rice's horror.
"This voice goes: 'Oh my God Balding, have you gone completely mad?' And I turn round and it's Anneka Rice.
"I said 'No no no, I'm just keeping an eye on Archie' [her dog] and Alice said 'no she's not. She thinks it's going to make her younger.
"For Anneka Rice to tell me that I'm going bonkers, I love her dearly, but that is quite extreme," she finished hilariously.
Walking is a way Balding bonds with her family, human and animal, and the audience laughed with and fondly at her as the book excerpts she read described their relative disinterest.
She decided to do a 70-mile walk with her brother whom barely sees, she said: "So 70 miles this thing is and he thinks it will take two days.
"He looked at the map and said 'oh the first bit looks boring, let's just drive that."
The broadcaster is a rambler in all senses of the word, going off on colourful tangents and forgetting the original point, but she always recovered her train of thought like a true professional.
The London 2012 chapter delivers an enlightening insight into that interview with proud Olympian father Bert le Clos, who she impressively impersonated, which turned them both into stars.
The subject of women in sport and sports broadcasting came up in the question time and Ms Balding is actively trying to instigate change.
"I said to BT Sport I'd really love to do a chat show, a sports chat show which I do, and my rider was I will do this, I will join you, if you promise to regularly promote women's sport," she said.
"Jazz Carlin [a swimmer] came on last week who won a gold medal at the Commonwealth games.
"It's the first interview she's ever done without wet hair, not straight out of the pool. And that is sort of appalling because they don't get the chance, there isn't a regular outlet."
"Businesses have a big impact and the boat race next year for the very first time will be men's and women's boat races on the tideway – because of Helena Morrissey of BNY Mellon saying yes we'll sponsor but we'll only do it if you bring a women's race here."