Names, addresses and voting instructions were erroneously sent to 43,000 Wandsworth residents yesterday.
The Electoral Services department of Wandsworth Council yesterday afternoon sent out what was supposed to be a routine email to registered voters, clarifying boundary changes to the borough's electoral wards, ahead of the upcoming local elections.
The email reminded the addressee of when the election was taking place, of their registered voting address, the location of their nearest polling station, and when their official Poll Card would be delivered.
But up to 43,000 of these personal emails were sent to the wrong people sparking fury today.
Fleur Anderson, Labour MP for Putney and former Wandsworth Borough council member, said: "This data breach by the Conservative Wandsworth Council is on an unprecedented scale and is unacceptable.
"It is chilling and very worrying for everyone whose personal details have been shared with strangers.
"The Council do not seem to accept the severity of this as their very weak response to everyone affected shows.
"They can't be trusted with our data, and how can we be sure this won't happen again?
"I know that many people have reported this to the Information Commission's Office and I hope that they will take action to safeguard our personal data in future."
Around 43,000 of the 332,524 residents of the London Borough of Wandsworth were reportedly affected.
Several celebrities live in Wandsworth including Mayor of London Sadiq Khan, Good Morning Britain TV presenter Susanna Reid and comedian Jack Dee.
The privacy and security concerns arising from the breach may be particularly acute for them, but they have also troubled residents across Wandsworth.
Resident Shelley Burke, 57, from Roehampton, was one of several who took to social media to complain.
She said: "We need the highest standards of data governance in all the institutions we deal with.
"Mistakes can happen, I understand that, but I'd like to see a clear explanation as to how this happened and what safeguards they will introduce."
The council first responded with an apology email describing the mistake as a data mix-up they had quickly resolved.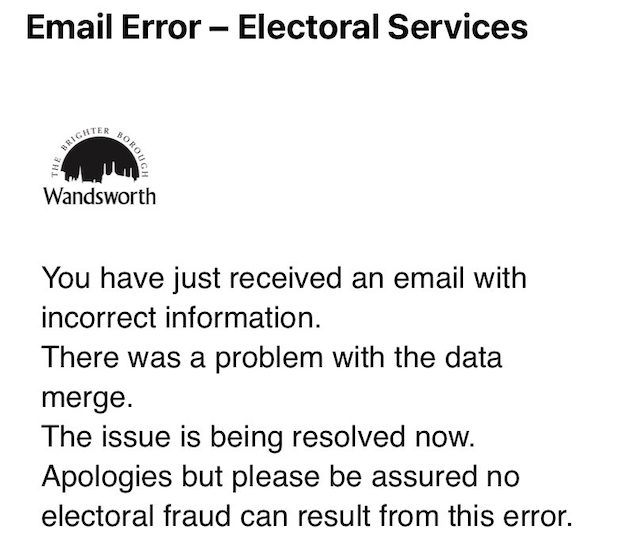 Student Jay Gallagher, 30, said: "I'm more aggrieved by the initial apology, however, which simply tried to reassure us that electoral fraud couldn't happen as a result of the data breach.
"There was no acknowledgement of the seriousness of the breach, and a pretty transparent attempt to make it about something it isn't."
A second email soon followed asking to delete the initial erroneous email.
By way of reassurance, the council insisted the information revealed was already in the public domain even for those who had opted out of the 'open' electoral register.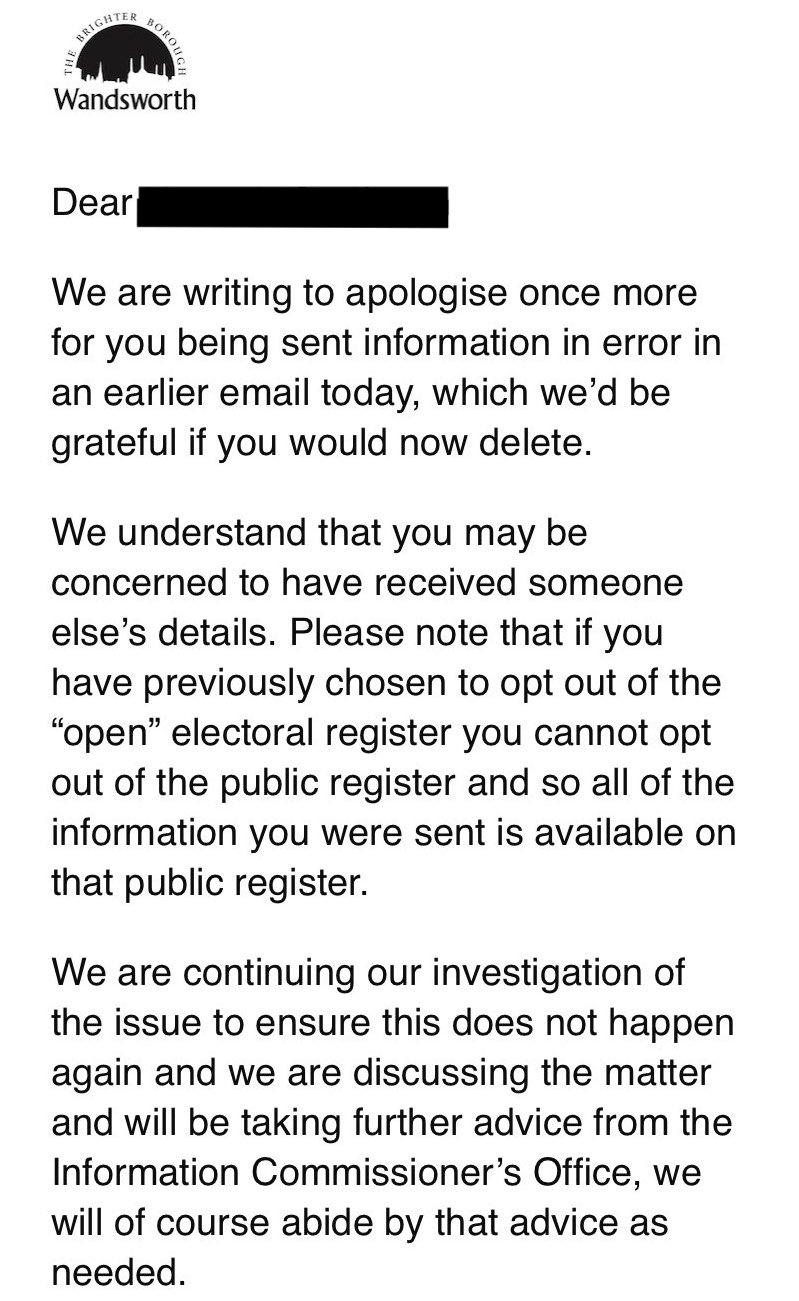 In response to South West Londoner's request for comment, Wandsworth Council referred to their statement below which they published yesterday evening.
A council spokesman said today: "Following discussions with the ICO they have initially indicated this is not a reportable incident and we will continue to work with them regarding this matter."
Simon Hogg, leader of Wandsworth Labour said: "Obviously this is an unfortunate mistake by the council.
"It's unacceptable and I'm glad they have apologised.
"Lots of residents have been in touch concerned about their personal details being revealed.
"I hope lessons can be learned to prevent a similar situation in future."