St George's University of London is worried the attractiveness of studying in the UK will be reduced post-Brexit.
An FOI has revealed that St George's University has seen the greatest fluctuation in EU student numbers of all south west London universities  since the Brexit result – 13.2% of students were from the EU in 2014/15, down to 8% for 2016/17.
However, this is in large part due to government efforts to encourage UK citizens to study medicine.
Higher Educational Statistical Agency (HESA) figures from 2014/15 estimate that 5.5% of all students and 16% of academics in the UK are from the EU.
Imperial College London has the highest number of EU academics of any south west London university at 28.7%.
Followed by the University of Roehampton (19%) and Kingston University (17.6%).
Imperial also has the highest number of EU students – both undergraduates and postgraduates – at 22.2%.
While it is unclear how the Brexit vote has effected EU student applications for the five universities in south west London – Imperial, Roehampton, Kingston, St George's and St Mary's University – UCAS estimate applications were down 9% nationally for early January courses.
A University College Union survey revealed 40% of academics say they're more likely to leave Britain after the vote – including three-quarters of EU academics.
St George's Principal, Professor Jenny Higham said: "The tightening of immigration rules could make it harder for students to get post-study work visas and the attractiveness of studying in the UK will be reduced. 
"In the medium and longer term we will fight for our highly-skilled expert staff to have the right to stay in the UK."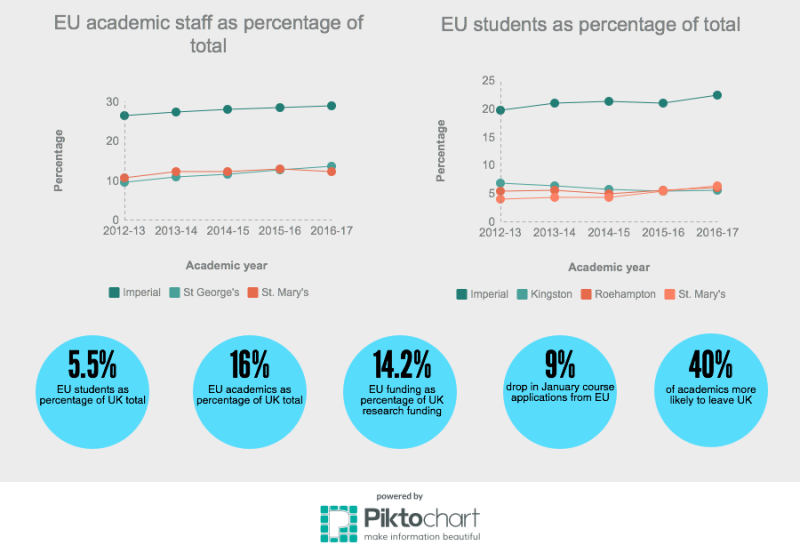 Chancellor Phillip Hammond said UK funding and grants through Horizon 2020 and UK/EU students' places through the Erasmus programme will be protected.
However, it is unclear if EU students would pay home or international fees, causing uncertainty about numbers.
Both St George's, a medical research and training university, and Imperial, rely heavily on EU funding for their research budgets – 13.5% (£1.4m) and 12.1% (£42.5m) respectively.
Professor Higham added: "It is not yet clear what will happen to outstanding and new bids for EU funding. Leaving the EU is likely to affect our ability to compete for EU grants.
"There are millions of pounds at risk in my own institution. What we are seeing already are changes in behaviour and pessimism about applying for and retaining a lead in European collaborations."
However, St George's refused to confirm if it would expand its campus in Nicosia, Cyprus, in order to provide a more secure EU base.
Imperial expressed concern in December, a spokesperson said: "The impact of the loss of EU research funding on the research productivity of the UK's universities will be substantial."
Featured image courtesy of Google Maps, with thanks