Merton council has not confirmed if it will raise council tax to boost social care spending following Sajid Javid's announcement in December.
Secretary of State for Communities and Local Government Mr Javid announced plans for councils to raise council tax by up to 6% over two years to relieve a £2.6 billion gap nationally.
He said the plans, coupled with money cut from the New Homes Bonus, would bring in £900m to relieve social care funding cuts.
Merton Council cabinet member for adult social care and health Tobin Byers said: "We are looking to increase the budget for adult social care by a further £9m from April.
"Our progress is no thanks to the government, whose supposed extra money is simply replacing other funding and is not sufficient for growing demands." 
The Labour councillor has faced pressure from many in his party as Merton is one of only eight England councils not to have levied the current 2% social care precept.
A 2% rise would have brought in an estimated £1.7m for social care against £5m in social care cuts for 2016/17.
The council's decision not to levy the 2% rise last February led to Councillor Peter Walker resigning and Councillor Jeff Hanna being suspended for three months.
Several Labour councillors and charities argued for a public consultation on a council tax rise.
Age UK Merton CEO Rob Clarke said: "Any additional money for care relies on councils taking up the opportunity to increase council tax in the first place, which Merton Council have yet to do.
"We are deeply worried about the future facing frail and vulnerable older people, especially those who are alone and from poorer areas such as East Merton."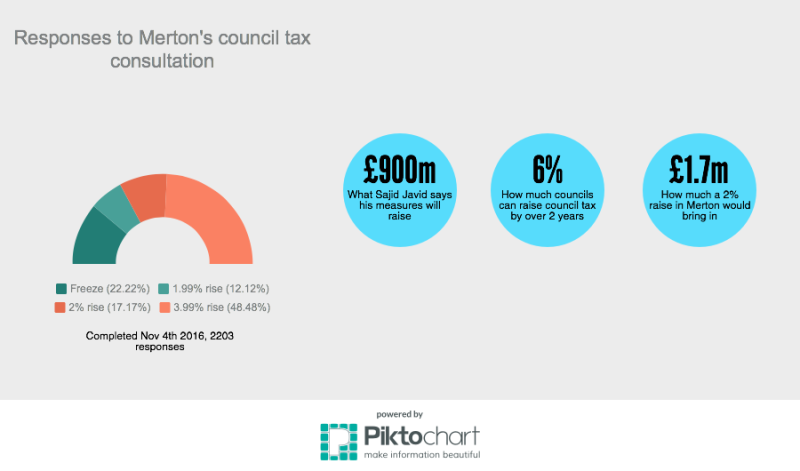 A consultation in November saw 78% of responses favour a rise in council tax – including 48% for a 3.99% rise.
But some in the Labour group criticised council leader Stephen Alambritis for sending out a letter recommending a continued freeze on council tax rates.
Cllr Byers said: "We will need to bear the level of government cuts in mind when deciding council tax, as well as the feedback from the council's consultation.
"But our aim remains to provide reasonable services at a price people can afford."
Cllr Alambritis has previously dismissed the idea of a 2% precept being used to stop cuts as 'fantasy'.
Since 2011, £18.65m in savings has been made from Merton adult social care, with a further £9.3m planned from 2016-19.
Featured image courtesy of  Images_of_Money via Flickr, with thanks