Far from horrid, author Francesca Simon's new children's title Do you speak English, Moon? is inspired by her son and aims to soothe restless children to sleep.
The new picture book is a collaboration with Aliens Love Underpants illustrator Ben Cort and tells the story of a little boy scared of going to bed finding great comfort in talking to the moon.
After his lunar one-to-one, the boy eventually relaxes enough to put himself to bed, a notion that will likely delight parents familiar with children adverse to bed time.
Francesca, 59, revealed that this is the first book she has written that was directly inspired by her son.
She said: "He was probably four or five and standing on his bed, looking at the full moon. He just asked it 'Do you speak English, Moon?'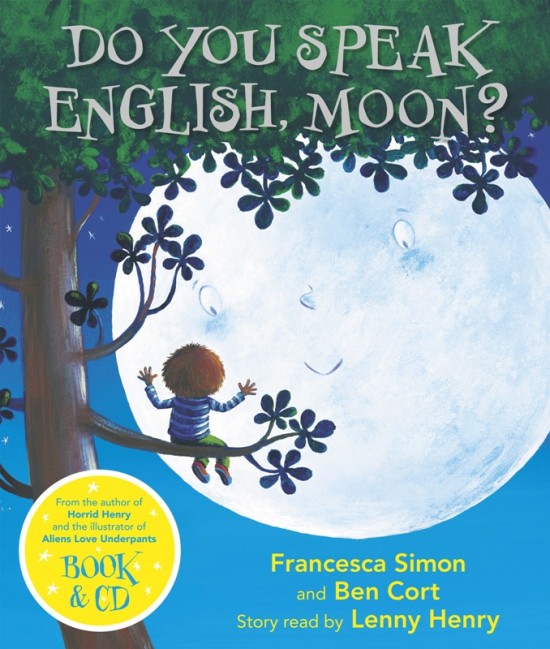 "I thought that the way he addressed his question directly to the moon – he didn't ask me – would be a wonderful idea for a picture book.
"The moon is very precious to children, perhaps because it looks like it has a face, and children have a relationship with inanimate objects in a very natural way."
On the process involved in creating the story, Francesca explained: "I worked on the book for weeks, developing the initial idea and deciding on how the story would progress.
"Picture books are a bit like film in this way – you need to work with your illustrator to decide on the movement through the book."
Speaking of her collaboration with Ben Cort, the author was full of praise and explained she was hoping to work with the award-winning illustrator on the project.
She said:"I've waited for two years to work with Ben!
"His visual imagination is very strong. Ben brought the most enormous amount to the book, not just with his pictures, but editorially too – I made cuts based on his suggestions!
"It was brilliant working with Ben; he is brilliant as an artist and was equally brilliant on the story."
No doubt the pair will be hoping that this title will follow in the footsteps of the infamous Horrid Henry story books, which have long been a bed time story staple.
Of the success of her most famous creation, Francesca was modest and frank.
She revealed: "I was totally surprised by the success of Horrid Henry. I was writing it for years along with a lot of other books, so to me, it was just another.
"It didn't suddenly take off at all. It was discovered by teachers and wasn't in book shops until the fourth book.
"You just never know what's going to hit a chord with people so I'm really lucky it has remained so popular."
Francesca attributed a lot of the book's timeless quality to illustrator Tony Ross, who ensured that the technology Henry pined after such as televisions and computers were drawn as boxed icons, instead of stylishly thin mod-cons.
Tapping into another timeless issue with Do you speak English, Moon?, Francesca and Ben have created a picture book that hopes to bring comfort to children that don't like going to bed.
Francesca and Ben will be at Waterstones in Kingston at 3pm tomorrow to sign the new picture book for fans.
Featured picture courtesy of Helen Giles, with thanks