A Twickenham paediatric nurse is raising money as she plans to cycle over 500 miles from London to Glasgow for this year's UN Climate Change Conference.
Samantha Drew, 44, has raised £845 towards her £2000 target to fund her journey to COP26.
As this cycle is self-funded, Drew will be using the money raised on her gofundme to pay for her equipment, accommodation, bike service, as well as any other costs encountered. 
Drew said: "As a single parent, these were costs I couldn't afford, but we were told we could raise money ourselves and so I went ahead and started a gofundme."
Any excess will go to Save The Children, who support children disproportionately affected by climate change.
Drew is part of a group of 35 paediatric healthcare professionals who on 24 October will cycle from Great Ormond Street Hospital for Children in London to the Royal Hospital for Children in Glasgow.
The group will be cycling around 70 miles every day for seven days, stopping at children's hospitals across the UK, sharing their message at events in Oxford, Birmingham, Sheffield and Newcastle.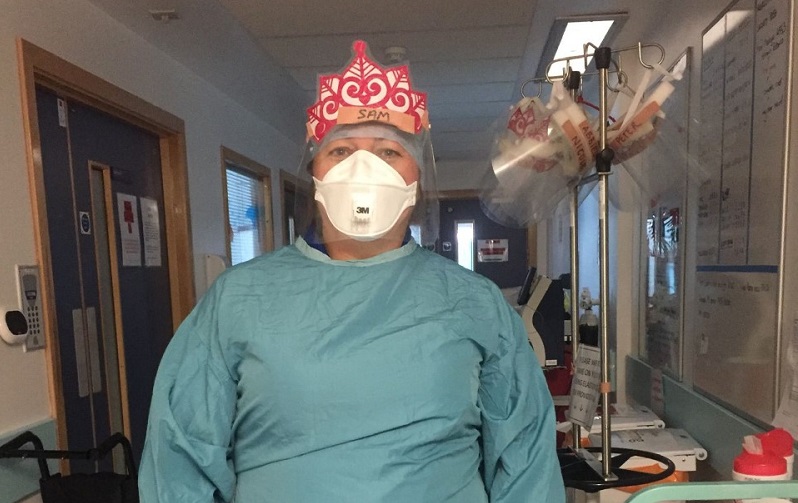 The cycle is part of Climate Acceptance Studios' Ride for Their Lives campaign which aims to raise awareness of how climate change will negatively impact children's futures.
With a seven-year-old son and 11-year-old daughter, Drew said: "This will all impact them in their future.
"I'm a single parent so I was a bit against leaving my kids, but they are so proud of me."
Although a regular cyclist since the start of the pandemic, she felt anxious when given a spot on the bike ride.
She said: "I actually felt physically sick. My eyes filled up with tears and I was like, 'Oh my God, they've given me a spot.'"
She worries about the journey, after some of her training cycles have left her in pain.
She confessed: "Just cycling to Box Hill, I only did about 44 miles and my feet were killing me.
"That was in one day and as I was cycling home with that pain, I was thinking this is part of what I'm going to be doing every single day and that's quite scary."
The cyclists will also be joined in these cities by Pollution Pods, an award-winning, immersive art installation consisting of five domes which emulate the atmospheric conditions of polluted cities across the world.
Once the cyclists have completed the 530-mile journey and arrive in Glasgow, they will hand over demands for action from the global health community, including a letter signed by over 300 international health organisations.
Despite her worries, Drew is passionate about raising awareness of climate change's impact on children and said she looks forward to the sense of achievement she will feel at the end of the journey.
Talking about the reaction she has received so far, she said: 'It's been really positive – some people think I'm a bit crazy and some people are more positive than I am at times but I do enjoy cycling now.
"I can't see myself stopping cycling."