The CEO of a food bank in Hammersmith & Fulham is calling for a halt to upcoming cuts to Universal Credit to prevent a wave of hunger this winter.
Daphine Aitkens, who founded Hammersmith & Fulham Food Bank in 2009, said they supplied over half a million meals in the last year to residents.
Demand for food in the borough increased by 267% through the height of the COVID pandemic.
Increased donations and grants last year meant Aitkens' team was able to provide families with a wider offering of fresh food like fruit & vegetables, and essential household items like washing powder and cooking oil.
The food bank spent £200,000 in 2020/21, though a sharp fall in donations means this year's budget is significantly lower.
Aitkens fears the combination of reduced donations and cuts to Universal Credit will leave more people seeking less food.
Aitkens said: "A decrease in numbers [of people] would be great, but that's not going to happen.
"We're preparing for the worst."
The £20-a-week uplift to Universal Credit, introduced in March 2020 in response to COVID-19 restrictions, was worth an extra £1,040 per year to recipients.
Almost 18,000 residents in Hammersmith & Fulham receive Universal Credit, and Aitkens believes the uplift kept many of them out of the food bank last year.
She said: "That £20 has been a massive lifeline to people – it's been the difference between a parent being able to provide a meal for their child and not.
"It's going to be the difference of being hungry and cold this winter."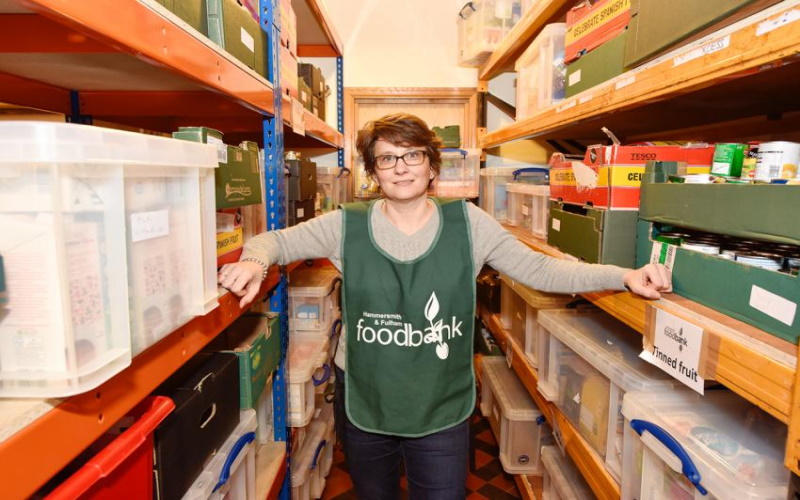 Claimant count unemployment in the borough is 9,000, while a further 6,000 on furlough – a scheme which will also wind up in the next few weeks – points to more potential demand.
Research by the Joseph Rowntree Foundation (JRF) shows 39% of families with children in Hammersmith were in receipt of Universal Credit or working tax credits.
Peter Matejic, deputy director of evidence and impact at JRF, said: "No good will come of cutting Universal Credit by £20-a-week.
"The whole purpose of Universal Credit is to provide dignity to families in and out of work who are struggling to make ends meet.
"The Prime Minister knows this and it's not too late for him to keep this vital lifeline strong."
A Government spokesperson said: "As announced by the Chancellor at the Budget, the uplift to Universal Credit was always temporary. It was designed to help claimants through the economic shock and financial disruption of the toughest stages of the pandemic, and it has done so.
"Universal Credit will continue to provide vital support for those both in and out of work and it's right that the Government should focus on our Plan for Jobs, supporting people back into work and supporting those already employed to progress and earn more."
Anyone interested in more information on changes to Universal Credit can go to The Trussell Trust website.