By Imogen Smith
June17 2020, 12.25
Follow @SW_Londoner
Oxford and Cambridge universities are among the most academically elite in the world.

Admission to either 'Oxbridge' university is a huge moment for any young person.

Actually attending can be a daunting and demoralising experience however – particularly for those from less privileged backgrounds.

Assumptions of social and financial privilege plague many during their time at Oxbridge, and inequalities have been further highlighted during the current Covid-19 crisis.

At the end of March, History student Lucy* received an email telling her to leave her accommodation at St John's College, Oxford, and return home as soon as possible.

The lockdown had begun.

Lucy could not return to the home she shares with her mother in the Midlands, however. Her mother had gone abroad, taking the keys with her, and was now stuck.

For Sofia* a Fine Art undergrad at St John's, it did not make sense to fly back home where a family member is particularly vulnerable to the virus.

Sarah*, a postgraduate student at Downing College, Cambridge, had not lived at home since she was 18. There was no space for her in her parents' London flat where she would have to sleep in the living room.

Her mother, an NHS worker, had also started showing symptoms.

Each faced initial resistance about remaining in rented college accommodation and difficulties determining what to do about upcoming exams – both Sofia and Sarah citied a feeling of 'emotional blackmail'.

Lucy could not get senior members of staff to understand until a tutor got involved on her behalf.

Sarah said: "In my emails I felt I had to justify why Downing is my home. It was quite uncomfortable to have to talk about my parents' housing condition.

"I think I'm always going to remember that. I thought the lack of consideration of socio-economic background was a bit tone deaf. But I can't say I'm surprised.

"The attitude of Oxbridge is 'oh everyone can afford a May Ball, right?'.

"It's 2020 – I don't think that should be the assumption anymore."

Sarah was also faced with a lack of understanding from fellow students.

She said: "I was talking about rent concerns during that first week of chaos.

"What really broke my heart was people on the student committee saying 'stop being fussy, this is a worldwide pandemic, people are being affected, we are so lucky' etc.

"I had a moment of dissolution because this isn't an abstract thing for me and my family – this actually does affect me.

"It was annoying to hear this guy who had clearly been able to go home to his parents talking down at me with a 'check your privilege'.

"I am in that situation, I am someone who worries about money – stuff like rent is really important.

"It was a bit sad knowing that not everyone could understand why stuff like that was an issue."

Oxbridge still admits roughly 30-40% of its undergraduate student body from private schools.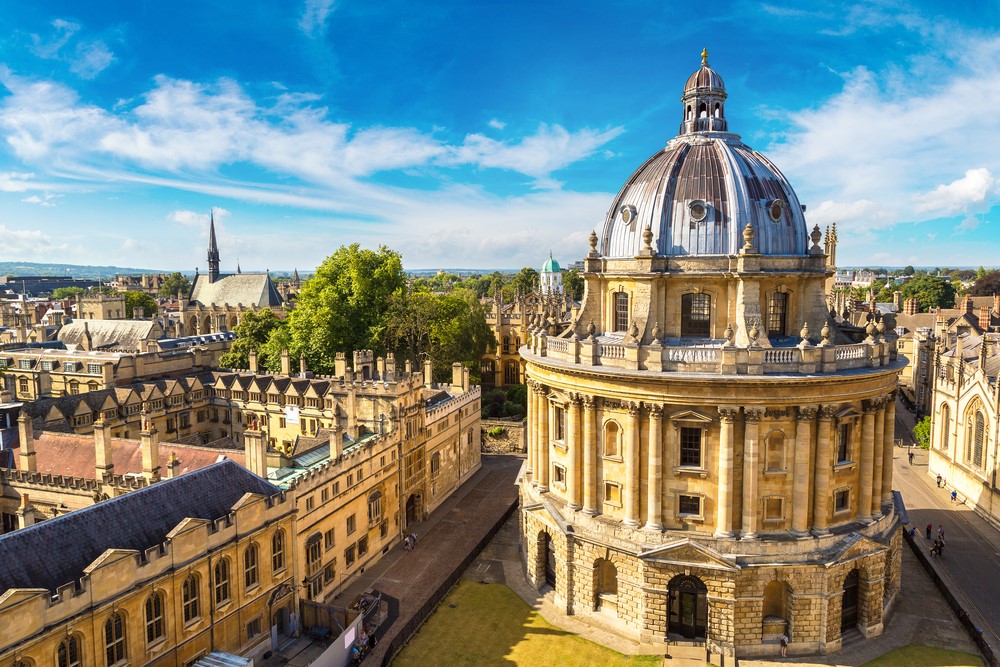 ELITE: The 'Rad Cam' at Oxford University which houses the Bodleian History Faculty Library 
Last year 52% of students admitted to Trinity College, Oxford, and 50% to Robinson College, Cambridge, came from private schools despite only 7% of the population being privately educated. 

Although recent outreach success was reported at Mansfield College, Oxford, this is not the norm. 

Oxford Student Union Welfare and Equal Opportunities Vice-President Roisin McCallion said: "Key areas of concern from students have been surrounding accommodation, domestic abuse, and home environments which are not conducive to effective working.

"Naturally, these concerns emphasise the academic inequality brought about through online teaching and assessment." 

Oxford University has offered students who cannot take exams at home the option of graduating with an unclassified 'Declared to Deserve Honours'. 

However, there has been confusion over whether this will allow students to take up jobs and master's degrees with grade requirements, leaving students at a potentially significant disadvantage. 

"We reached out to employers and master's courses asking if they would accept the DDH instead of a classified degree and the response unilaterally was no," Sofia said.

"The diversity of the student body isn't really reflected in the people who are making the decisions.

"It makes people more vulnerable because there is a large group of people who aren't being considered by those who have the power to protect them."

An Oxford University spokesperson said: "We are confident that from the 'Declared to have Deserved Honours' award, through to our mitigating circumstances and the safety net process, Oxford students taking these options will not be negatively affected, and able to move on to the next chapter of their lives and academic futures regardless of this unprecedented situation.

"This belief is reinforced by the University's decision to accept the DDH award as a sufficient qualification to apply to study at master's degree level at Oxford."

The lack of diversity in the student body and of senior members of staff presents a challenge to those who do not fit the white upper-middle class Oxbridge student stereotype.

Sarah said of her experience: "I went to state school where there was a huge variety of socio-economic background.

"Fairly rich kids were hanging out with kids from council houses – there was never such an explicit difference for me until I came to Cambridge.
"I'm also a woman of colour and that had never been an issue because I came from London.

"It wasn't so obvious until you walk into a new reality of a dining hall full of portraits of white men."

The first black leader of any Oxbridge college, Sonita Alleyne, was elected as master of Jesus College, Cambridge, in May last year.

Baroness Valerie Amos was appointed as the first black head of any Oxford college in August, taking up her position on 1 August 2020.

Both women are the first female leaders of their colleges – founded in 1496 and 1249 respectively.

An Oxford University spokesperson said: "Excellence has no set race, background or gender and we are determined to build a more inclusive Oxford, somewhere all students and staff feel welcome, valued and respected."

As of 31 July 2018, 7.8% of Oxford University academic staff (6% of professors), 20.6% of research staff and 9.4% of professional and support staff were BME.

Lucy concluded: "There's a big temptation to look at this as something that really turned the university upside down at this moment, but really the problems have their roots in things that colleges have been doing wrong consistently for many years.

"Not being able to address students' mental health requirements, not being able in many ways to appreciate the different circumstances in which students have lived in and come from when they get to Oxford.

"I think coronavirus has exacerbated it, but I don't think that that popped up out of nowhere."

*Names changed