Non-white women and those on a lower income in the UK are less likely to survive childbirth than White women.
MBRRACE-UK (Mothers and Babies: Reducing Risk through Audits and Confidential Enquiries across the UK) published a report in 2021 that showed areas of change regarding a mother's life and that of her newborn.
The report showed that Black and Asian women are still more likely than White women to die in pregnancy.
In the UK, for every seven White women who lose their lives during childbirth, 32 Black women lose theirs.
Women living in the most deprived areas of the UK are also twice as likely to die during childbirth than those in more affluent areas.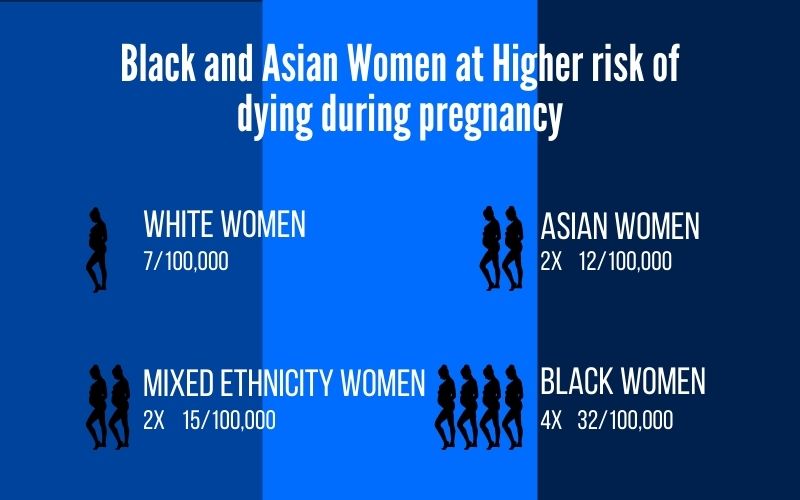 The 2021 report covers 2,173,810 women who gave birth, 191 of whom died during or up to 6 weeks after pregnancy, and 495 women who died during or up to a year after pregnancy.
Mortality during pregnancy in the UK remains relatively low compared to many other countries, with 8.8% per 100,000 people dying during or up to 6 weeks after pregnancy.
Dr David Williams, chair of the Harvard Chan School of Public Health, and a professor of African and African American studies at Harvard University suggested Black and other ethnic groups, both in the US and UK, have lower incomes and wealth statuses than White Britons and White Americans.
He said: "There is an added burden of race.
"Researchers have been asking for the last 25 years or so, 'could racism be a critical, missing piece of the puzzle to understand the pattern of racial inequities in health?'"
Dr Williams presented data at the Royal College of General Practitioners last year that showed there is a higher number of Black, Pakistani, Bangladeshi, and other ethnic groups in the most deprived 10% of neighbourhoods in England.
He believed this to be no mistake.
He explained: "This is a carefully crafted system, functioning as planned, successfully implementing social policies, many of which have historically been rooted in racism'.
Maggie Rae, president of the Faculty of Public Health, agreed: "Women who live in more deprived areas continue to be at greater risk of dying during or after pregnancy."
According to gov.uk, people from Pakistani ethnic groups are more than three times more likely than White British people to live in the 10% of deprived neighbourhoods in England.
Mbrrace-UK concluded in their report that pregnant women in the most deprived 20% of the UK are twice as likely to die during pregnancy.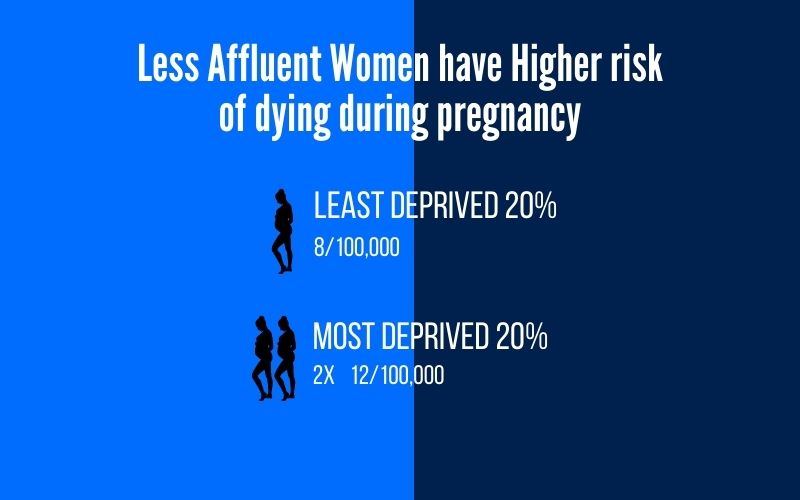 According to the most recent census, 86% of the population in England and Wales were from White ethnic groups, 7.5% were from Asian ethnic groups, 2.2% identified as having Mixed ethnicity and 3.3% were from Black ethnic groups.
Race Equality Foundation said: "This distressing evidence of Black women being more than four times more likely to die in childbirth, adds insult to injury because it shows little has improved over the past decade, or longer.
"Worryingly, there is evidence that NHS England's commitment to provide 'continuity of care', to begin to address this inequality, has only been made available to a small number of Black women.
"This is not good enough. The avoidable deaths of Black women during pregnancy must be given a higher priority."