An innovative app is helping eateries in south west London reduce their amount of food waste while saving customers money.
Too Good To Go links hungry customers with nearby restaurants offering highly-discounted surplus food at the end of the day that they would otherwise throw away.
Customers search for signed-up restaurants in their area and collect a large portion of food for as little as £2 in a designated time frame shown on the app.
The voucher can be purchased for multiple restaurants signed up in south west London, with most in Richmond, Kingston and Fulham.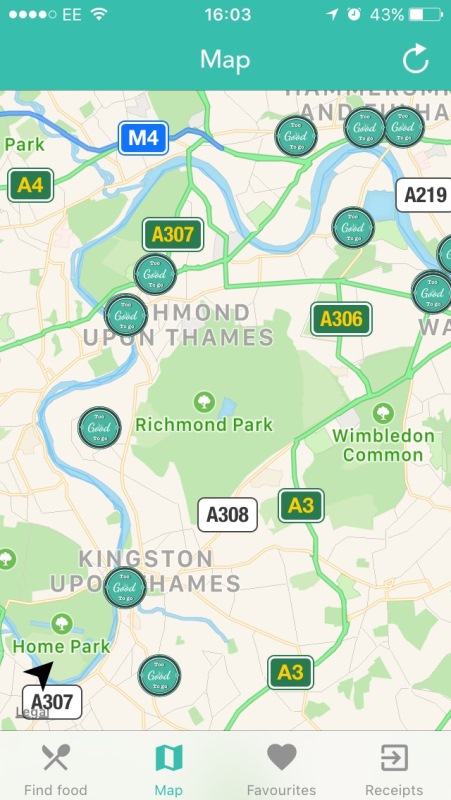 Founded by Chris Wilson and Kingston-born Jamie Crummie in June 2016, the app has saved the equivalent of 13,350 meals across the UK so far.
Co-founder Mr Wilson said: "We want to change the way people perceive food waste – not thinking about it as leftovers, but as something that is often perfectly good to eat."
The concept was launched by a group of friends in Denmark in November 2015, and work began on the UK version two months later.
"We thought it was the greatest idea ever, so we took it back to the UK," Mr Wilson continued.
The app officially launched in Leeds and Brighton in June last year and is now being rolled out across London.
Mr Wilson said: "London was a big area to launch the concept – almost like another country.
"Leeds was a good fit as we both went to university there and Brighton worked as it's the environmental capital of the UK.
"When we first started in London, we went round knocking on businesses' doors to let them know about the concept, and interest began to grow."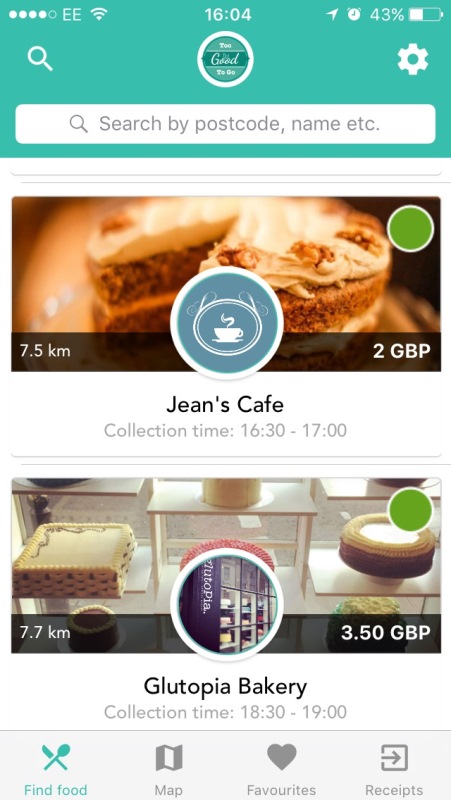 Sarah Conte, who started up Jean's Cafe in Surbiton in October 2016, got in touch with the app after she heard the co-founders being interviewed on the radio.
She said: "It's a fantastic idea, as so much surplus food is wasted in cafes and supermarkets. With cafes that produce fresh food on a daily basis, all of it is perfectly good to eat and should never be thrown away."
Re-distributing food through the app also saves wastage costs for small businesses, which get a major percentage of the income from the vouchers.
Ms Conte added: "We're tucked away in a tiny corner of Surbiton so we haven't got a lot of business through the app yet, but it's still early days for us – just as it is for the app.
"I wish them every success and we'll definitely stay partnered with them for as long as possible."
Currently, food waste in the UK emits 2.1 million tonnes of CO2 a year. Tackling the problem could remove the equivalent of one in four cars from London's roads, according to figures from the Waste and Resources Action Plan (WRAP).
As well as providing a link between customers and restaurants, Too Good To Go also supplies fully-recyclable packaging to its partner businesses to box up the leftover food in.
If packaging isn't sustainable, recycling food waste isn't possible as the whole box has to be sent to the landfill.
The Food Waste Network is an online information hub for small businesses to find out more about recycling 'unavoidable' waste that can't be re-distributed – i.e, potato peelings, scraps and things that would otherwise be sent to landfill.
Group recycling consultant Eilidh Brunton said: "Food businesses have to arrange for their own waste collection – and they can save money by recycling more.
"The work Too Good To Go is doing is to re-distribute food that can be sold on, which is great to reduce wasting surplus food, but we help businesses by linking them up with waste collectors in south west London to recycle unavoidable waste.
"It's a benefit for businesses as when they start recycling they realise how much they're wasting, so they can cut costs by planning food production with more efficiency."
Too Good To Go will start work next month with a 'major UK charity' to discuss adding a feature on the app that would allow customers to donate a meal to a person in need.
The option to add an extra donation at the point of payment is an important part of the app's future plan, but the logistics of transporting food is still something that needs to be discussed.
Mr Wilson said: "We wanted to change the world, tackling food poverty and food waste. But right now, we're mainly tackling waste, trying to place value back on food as something that should be eaten, not thrown away."