Climate change activists Extinction Rebellion (XR) shut down Waterloo Bridge and other major London landmarks on Monday.
The organisation is behind the direct action, which also saw protests in Parliament Square, Marble Arch and Oxford Circus, and has promised to remain on the bridge until Theresa May declares a climate emergency.
Both young and older XR activists came from across the country and decorated the bridge with plants, art and placards.
Artists performed music and poetry, and a food tent serving vegan-only food was set up.
Lucy Roland, 59, came from Dorset to join the hundreds demanding the government take climate change seriously.
She said: "The government need to declare a climate emergency, and they're not, and they need to do that.
"If we can get 3.5% of the population to go towards an aim, then it will be successful."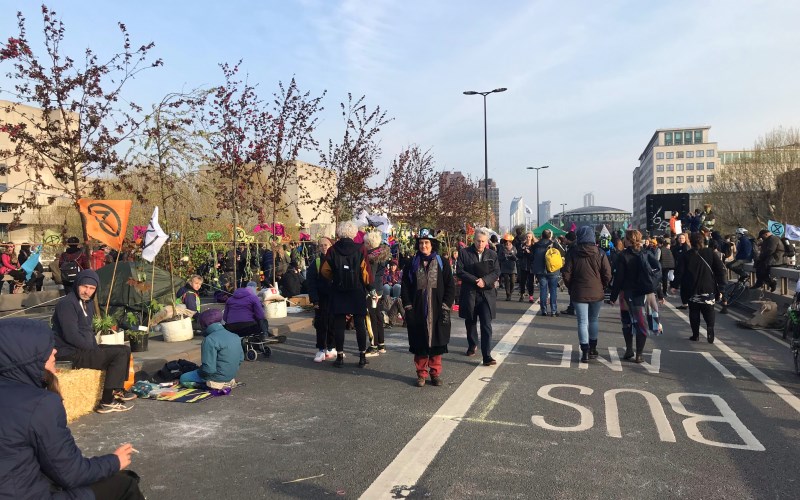 Laura Thompson, 23, was staffing the kitchen after seeing they needed volunteers, and prepared vegan lentil dhal for the protesters.
She said: "There's only so long you can sit at home doing nothing. At some point you've got to go and join in."
"Climate change is what's always positioned to you as the greatest threat we face. It baffles me that anyone can't be concerned."
Flo, 23, was alerted to XR on social media, and decided to get involved by attending training by the organisation.
"XR is actually doing things, like proper clear actions, whereas I think a lot of the other environmental groups don't necessarily have stuff that's like this, and it's huge," she said. 
XR is an organisation who promote non-violent civil disobedience and rebellion and state three demands on their website.
They want the government to 'tell the truth' and declare a climate emergency, to act to halt the damaging effects of climate change, and they demand a 'Citizens' Assembly' on climate and ecological justice.
The police have now attempted to remove the protestors on Waterloo Bridge to XR's site at Marble Arch and there have now been 113 arrests. 
A Metropolitan police statement said: "The information and intelligence available to the Met at this time means the Met feels this action is necessary in order to prevent the demonstrations from causing ongoing serious disruption to community."