Chelsea's oldest pub The Cross Keys, a favourite haunt of the Rolling Stones, is set to reopen its doors after a three-year closure following investment from one of Prince William's oldest friends.
The pub opened in 1708 and as well as Mick Jagger's iconic band it was also been a regular hangout for the likes of Bob Marley, Dylan Thomas and Agatha Christie.
The past ten years have seen over 1,000 pubs close in London, a trend new landlord Mark Dyer is keen to reverse on March 5 with The Cross Keys relaunch.
"Pubs are an essential part of British culture," he said. "We felt that in resurrecting such an iconic pub that we are able to contribute to our British heritage in some way."
Mr Dyer, a longstanding friend of the Duke of Cambridge, and his business partner Eamonn Manson together also own The Sands End and The Brown Cow in Fulham as part of the DM Group.
The Cross Keys' closure in 2012 sparked a public campaign, supported by Piers Morgan and Zac Goldsmith, to save it from property developers who planned to turn it into a luxury five-bedroom house.
Parsons Green Land bought the building for £4.9million and will now turn the upper floors into four two-bedroom flats, leasing the ground floor pub to the DM Group.
In the three years since the pub's last pint was pulled, squatters temporarily moved in before they were evicted by a court order.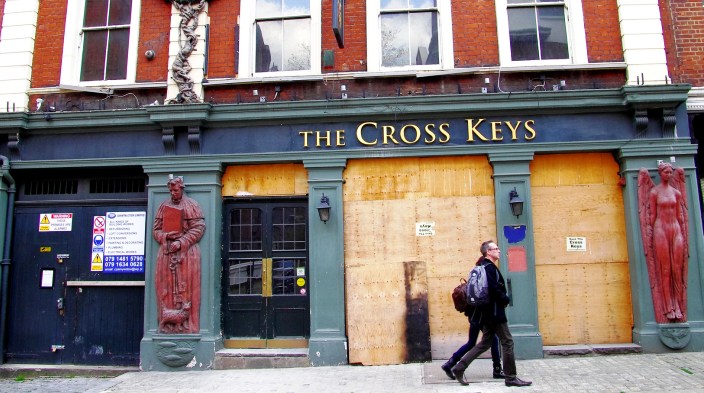 It has now been restored to its former glory, with Manson outlining how important it was for the pub to maintain its trademark rustic feel as it hopes to appeal to the masses once again.
"Our pubs quite simply follow an ethos of attention to the important details of service, food and ambience," he said.
"We want customers to walk into the new Cross Keys regardless of whether it's to sit quietly with a pint, a Scotch egg and newspaper or to visit with friends and family to sample an excellently cooked meal in our main dining room."
Featured picture courtesy of Jim Linwood, with thanks
Inset picture courtesy of Haydn, with thanks