London experienced yet another dark day yesterday, as the 24-storey Grenfell Tower set alight in a blaze that lasted more than 12 hours.
Today a hollow of a building stands tall in west London – an ashy tomb where 17 have been confirmed dead and many more are still unaccounted for.
Londoners' skins have toughened over the past few months after attacks in Westminster and London Bridge – and each time the capital is wounded, light emerges.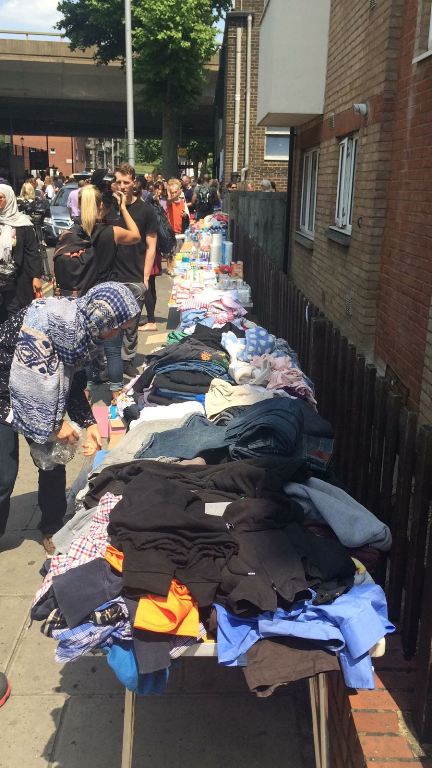 Donations outside Latymer Community Church
"We always pull together and we always have – London is unique," said Drusilla, a 74-year-old resident who has lived in west London all her life.
"This is what it is about. When something goes wrong in this community, everybody goes 'Right, what can we do?'"
The fire started shortly before 1am on Wednesday, and within hours the streets had been flooded by people willing to help out.
By mid-morning, refuge centres had been set up in churches and community centres, and you could not move 10 paces without seeing someone donating food, water, toys, or clothes to the displaced.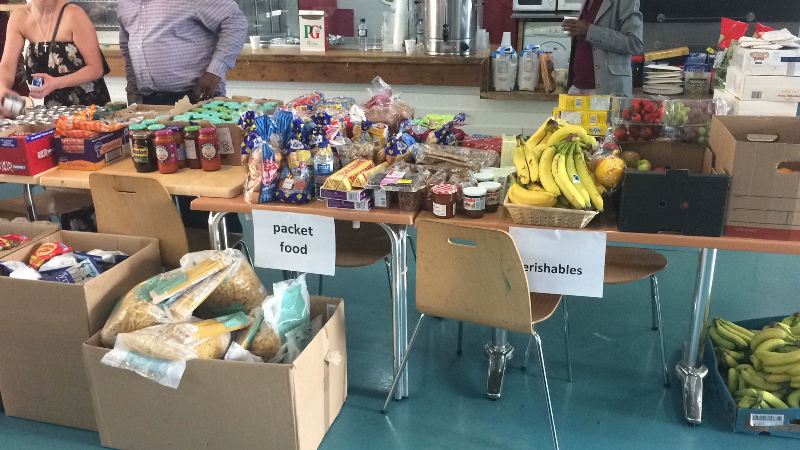 Inside the Harrow Club, one of the main centres for the displaced
Suitcases, bin bags, and bags for life were all filled to the brim as they were carried around the streets by people who had made the journey from far and wide.
"I live in north London but I came here as soon as I could," said 22-year-old student Malia Ferrag who was laden with four bags stuffed full of clothes.
Harrow Club in Freston Road, just five minutes' walk away from the tower, opened up at 3am to people waiting outside with donations.
The club's director, Michael Defoe, said: "It is beautiful community spirit. Unbelievable. Some people with hardly anything have been bringing things in."
At Notting Hill Methodist church, minister Mike Long, 53, said: "We do not know each other but we have all pitched in."
Donation centres began to turn away clothes and food due to oversupply – but people carried on undeterred as they set up in the streets instead.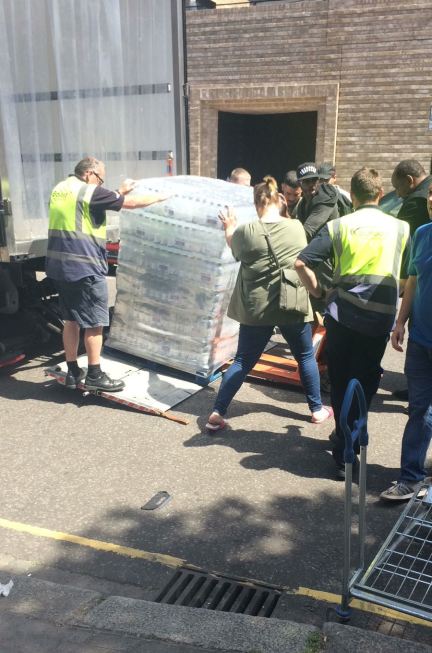 Water delivery at the Harrow Club
Lily Bovey, who runs food stall SteakHaus, set up under the Westway arches offering free food to those in need.
"I came down here to help really and offer some hot food and cold drinks for those who have lost their homes.
"I just want to be able to help and give people a hot dinner tonight. I think it's great everyone is willing to help," she said.
Hospitals around the city admitted 74 victims, of which 34 still remain there and 18 people are said to be in a critical condition.
The community has rallied to ensure those who survived the fire, which engulfed the building within 15 minutes, may be left without a home but will not be left without necessities.
Temporary accommodation was set up in Westway Sports Centre, as many others offered their homes and reserved nearby hotel rooms to anyone who had nowhere to stay.
One resident, who lives just around the corner from Grenfell Tower said: "This is how we are in Ladbroke.
"With us, the community is always like that. We always help each other."