January marks the hardest month for the beer industry, as over-indulgence throughout the Christmas period often leaves people anxious to lose weight and save money.
Which is why Tryanuary was created, a national campaign to promote independent beer businesses by encouraging people to try new beers during January.
Now in it's fourth year, there are almost 100 grass-route volunteers organising and promoting the campaign.
Ruvani de Silva, known in the trade by her twitter handle @amethyst_heels, is south west London's representative, championing independent beer companies in the area.
"January is the time the beer industry is most vulnerable because most people are cutting back," she said.
"It's a really good opportunity if you do want to drink less, to make sure what you do drink is something different."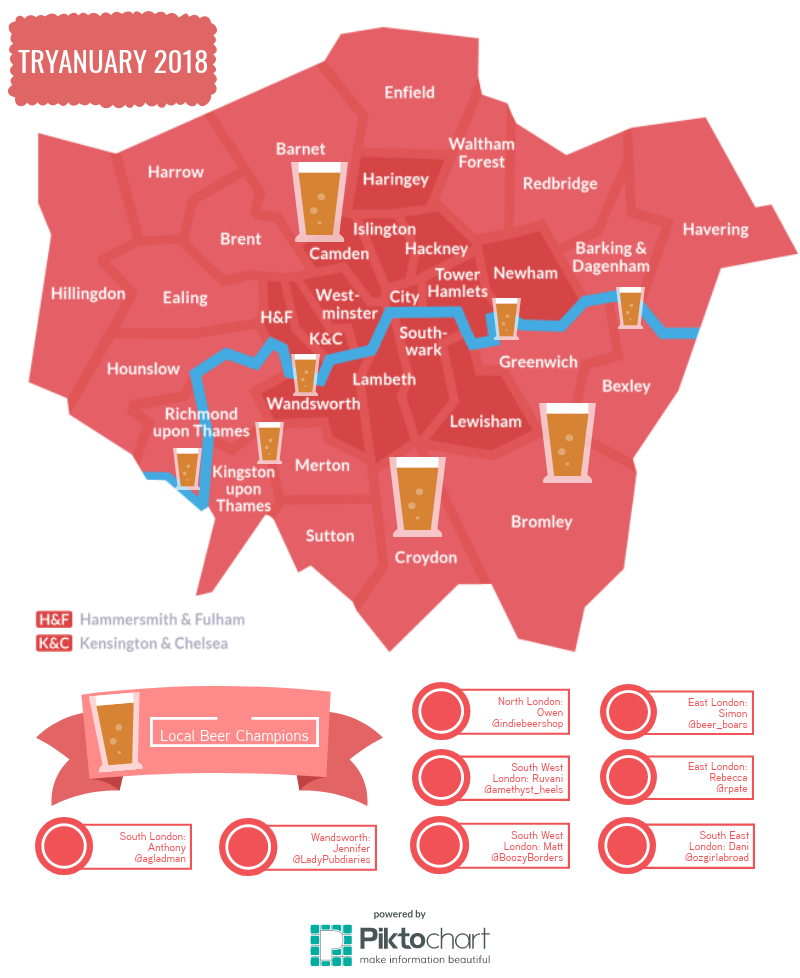 By spreading the word through social media, Ruvani hopes the campaign will improve sales and publicity for independent pubs, breweries and beers.
"Both the people in the industry and the consumers are benefitting from it," she said.
"South west London didn't used to have any craft beer at all, it was like the craft beer desert! I would have to bring beer from north London or east London, you couldn't get anything.
"Now it really feels like a lively, exciting scene, and it's a great scene to be part of.
"In east London there's so much going on but it's all very established and there's almost too much competition, whereas in the south west everything is fresh and new and exciting and it's great to get people involved who might not have known about craft beer."
The campaign has taken off massively in the three years it has been running, with the hashtag #Tryanuary encouraging publicity for business by highlighting the companies and places taking part.
Ruvani took over Tryanuary's Twitter account on Friday January 8 as part of her role, tweeting about places in south west London offering special deals on independent beers and putting on events throughout the month to raise awareness of community driven initiatives.
She said: "There's a lot of local love but I think it's particularly dynamic because it's not over-crowded as it's very new in this area, people are really embracing it."
Spearheading the national Tryanuary campaign for 2018 is Tom Stapley, who said: "It needs people all over the country to celebrate the beer on their doorstep and share that with the nation through different mediums."
For more information visit Facebook, Twitter, and Instagram, where you can see all the events that are happening throughout south west London in January.
Although Tryanuary encourages support for the beer industry, campaign organisers still promote drinking responsibly.