Sadiq Khan's office has admitted there is 'no real opportunity to save' the historic Harker's Studio in Walworth from development this month, despite a petition gaining more than 4,000 signatures backed by celebrated actors including Dame Judi Dench and Sir Anthony Hopkins.
Campaigners hope to stop the Grade II listed Edwardian building on Queen's Row from being converted into luxury flats by Greencastle Worldwide Ltd, but time is running out to save the creative workplace.
The studio is one of only six theatrical scene-painting workshops left in London. It is still used by artists who may have to leave this week.
Sadeysa Greenaway-Bailey, a theatre designer, scenic artist, and campaign organiser said: "For 113 years Harker's Studio has served as a creative workspace feeding the theatrical industry, but spaces like this are largely disappearing.
"There is something special about this building because of the amount of history that it has, it's in the very bricks and mortar of the place."
Justine Simmonds, Deputy Mayor for Culture, responded to the petition on October 11.
She said: "I am really saddened that this wonderful historic facility will be lost to the creative industries.
"We have spoken to Southwark Council but as planning permission was already granted at the end of [2016] there is no real opportunity to save this space."
Ms Greenaway-Bailey said the campaigning group remain hopeful and will continue to lobby Southwark Council and and rally support from arts and cultural organisations across the capital.
The group are calling on Londoners to sign a Change.org petition in last-ditch attempt to stop the redevelopment and raise awareness of the threatened workshop.
They believe Harker's Studio can help boost the borough's creative industry and significantly contribute to London's economy.
In an open letter published this year, campaigners said: "The fight for Harkers Studio comes at a boom time for the creative industries, which have seen over a third more economic growth than the UK average.
"Theatre in London is a major cultural industry, but the loss of creative workspace is on the way to becoming a substantial issue for London's theatres, as freelance practitioners are forced out of the city."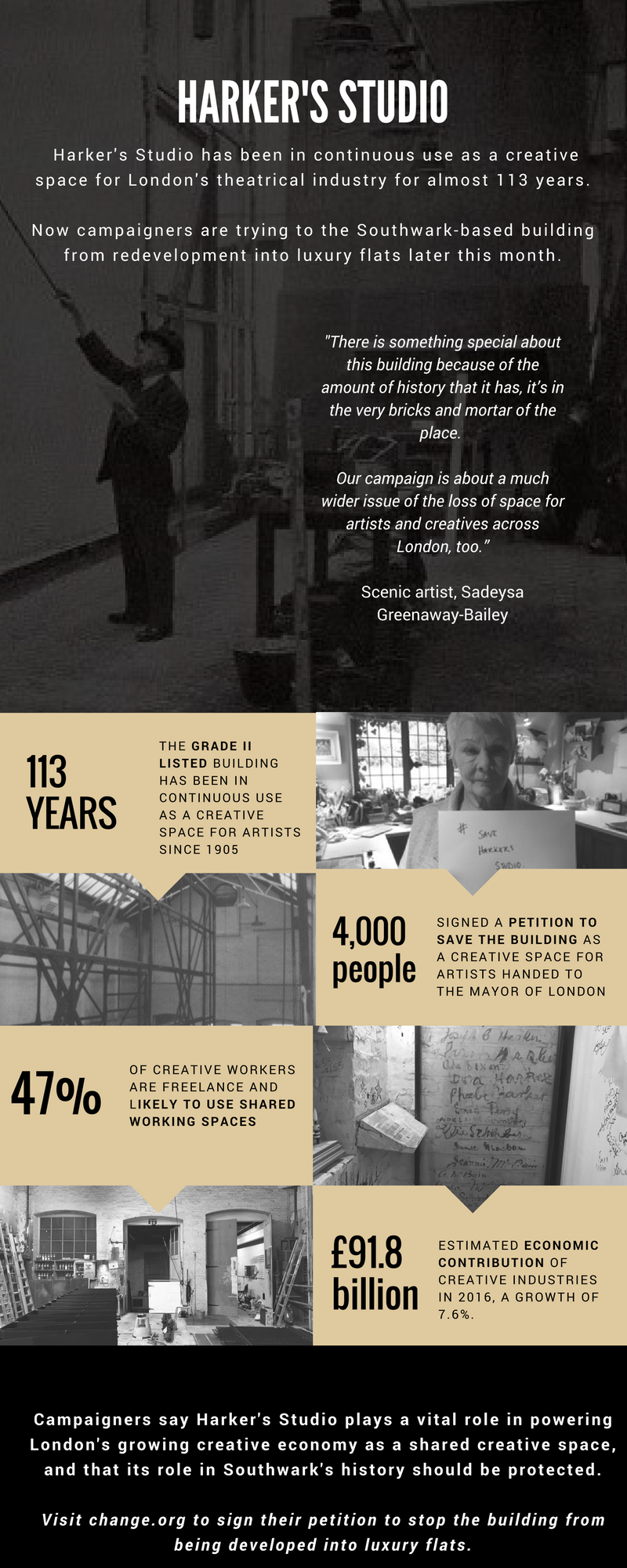 Joseph Harker, a Victorian landscape painter whose name was immortalised in Bram Stoker's Dracula, built the studio in 1904.
His signature remains marked on one of the building's internal walls alongside others belonging to contemporaries from his career as a scenic painter for Drury Lane, Covent Garden and the Lyceum theatre.
Harker has a long-line theatrical descendants including the actress Susannah Harker, most famous for playing Jane Bennett in the BBC adaptation of Austen's Pride and Prejudice, who has lent her support to the campaign.
Other high-profile supporters include playwright Tom Stoppard, and actors Sir Ian McKellen, Dame Judi Dench and Sir Anthony Hopkins.
The large workshop was specially designed to provide ample room to produce hand-painted theatre backdrops. The original frames built by Harker can hold canvases 40 feet high.
The painting studio continued to produce scenic designs for the West End and other UK theatres until the 1990s, and was used to create David Hockney's celebrated backdrops for the Glyndebourne opera festival.
Today the studio provides work space for freelance London-based artists and set designers, many of whom work for the capital's theatres.
After surviving the blitz and large-scale house clearances in Walworth and Camberwell after World War Two, Southwark Council approved the planning application to turn the listed building into flats in 2016, but artists working in the building did not realise the redevelopment was happening until the planning application had already been granted.
The group says that the studio is a powerful historical reminder of Southwark's central role London's theatrical history – and a vital creative space in a borough rapidly changing from the effects of gentrification.
Ms Greenaway-Bailey said: "Our campaign is about a much wider issue of the loss of space for artists and creatives across London, too."
Ann Roche, who signed the campaign, wrote on the petition page: "Southwark have let too much of our social and industrial heritage disappear to the benefit of the private developer.
"Harker's Studio is a unique building, with a unique story in an area currently being stripped of all character; replaced instead by largely unaffordable apartments. Once gone, this cannot be replaced."