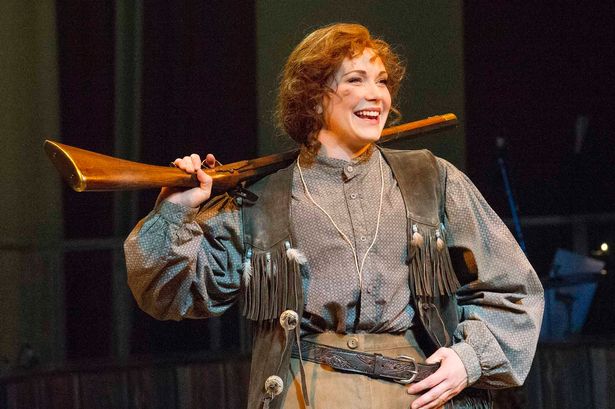 Sweet country music echoing the far west could be heard from Wimbledon station down the Broadway last week, as the Wimbledon Piazza was transformed into a Wild West playground.
All fans of Annie Get Your Gun were treated to a gun slinging time last Tuesday in preparation for the upcoming play at the New Wimbledon Theatre.
Hundreds of locals had the chance to watch three live performances and meet part of the cast, including West End leading lady Emma Williams, who plays the role of Annie Oakley in the show.
In the play, her character falls in love with sharpshooter Frank Butler, portrayed by Jason Donovan.
This well-known actor has previously been part of successful tour Priscilla: Queen of the Desert and his stint on BBC show Strictly Come Dancing will usually help with the musical numbers, something co-star Emma is ecstatic by.
"I was thrilled when I got the role, especially as there's so much dancing in the show," she said.
"It's my first ever tour and it's manic, but I'm loving it.
"We do eight shows in five days so it's a crazy schedule but we're having an absolute blast."
The event, promoted by New Wimbledon Theatre in conjunction with Love Wimbledon, provided the public with a small taste of what to expect from the musical.
After the outstanding performance, crowds from all generations were treated to attractions such as rodeo bull riding, rifle shoot out, cactus hoopla and bucking bronco.
"It is good fun," said Llona Nemeth, an au pair, who learnt about the play from this street event.
"Now I might go and see the play with the children when it's out."
This version of Irvin Berlin's classic musical Annie Get Your Gun is presented by Ambassador Theatre Group, who also produced West Side Story and South Pacific.
The tour started in May 2014 and will hit the stage of New Wimbledon Theatre from September 9-13.