Disabled Richmond residents are being urged to vote as a touring bus supporting Independent Living Scheme parks up at York House today to involve marginalised voices.
The event, to be held between 1pm and 3pm, is a joint enterprise between Inclusion London and Richmond Users Independent Living (RUILS), which is based in Teddington.
RUILS founder Richard Kember said: "Often disabled people don't vote because they can't get to the polling station.
"The only way we can ensure their voices can be heard is to organise our own events."
Mr Kember, 67, had a spinal tumour when he was 28 that resulted in tetraplegia, a form of paralysis in the limbs and torso.
The charity achieved an inclusive first last month when they arranged two hustings accessible to disabled people in Richmond and Twickenham.
Although the events gave disabled constituents the chance to put questions to the likes of Vince Cable and Zac Goldsmith, RUILS had to spend around £6,000 to provide signers, typists, and provide full access for attendees.
Mr Kember explained: "We had volunteers going into retail shops to try to get sponsorship, but we didn't get a single one – none of them were interested in sponsoring it.
"The current situation means that securing public funds has become much harder, so our income is very unpredictable."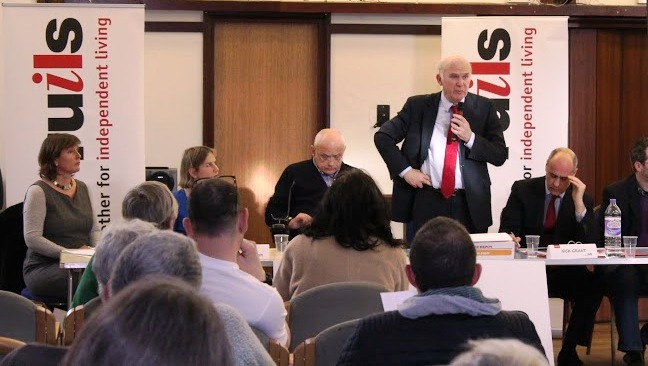 Despite these obstacles, the charity managed to successfully organise the hustings, and Mr Kember feels the cost is worth bearing if it allows people with a broad range of disabilities to engage with the upcoming elections.
A 2014 survey by MENCAP found that the number of people with a learning disability who wish to vote is proportionally higher than the general population, at 55 per cent.
But 60 per cent of those surveyed said they found the process of registering to vote too difficult.
RUILS members will be at York House today providing information about ways disabled and housebound people can vote, and guidance on the availability of easy-read copies of party manifestos.
Operation Disabled Vote was launched in November 2014 by Inclusion London, a charity in Brixton Road, Lambeth, that aims to provide a London-wide service to deaf and disabled people.
For information about Operation Disabled Vote click here.