Richmond Council is expected to approve plans for a new borough-wide 20mph speed limit, costing nearly £800,000, when its cabinet meets tonight.
The scheme is a key manifesto commitment of the new Liberal Democrat administration and includes all borough roads except the A308 between Kingston and Hampton, the A310 corridor and part of the A305 corridor.
If approved, the council would begin a gradual implementation process costing just under £800,000 this autumn, with the aim of completing it by May 2020.
Councillor Alexander Ehmann, deputy leader and cabinet member for transport, streetscene and air quality, said: "Few mechanisms allow us to have a material impact on road safety in the way 20mph does.
"It would have been regrettable for us to turn a blind eye to something which has been proven to lessen the frequency and severity of accidents.
"Richmond is not a borough that excels in terms of road safety so we need to do more."
Pedestrians hit by vehicles travelling at 20mph have only a 2.5% chance of being fatally injured, compared to 20% at 30mph, according to the Royal Society for the Prevention of Accidents.
Neighbouring boroughs Wandsworth and Hammersmith & Fulham, meanwhile, have already introduced 20mph, with the former reporting a 9% reduction in accidents during the first 12 months post-implementation.
In addition to improving road safety, the 20mph limit is aimed at bettering the borough's air quality and creating an environment more conducive to walking and cycling.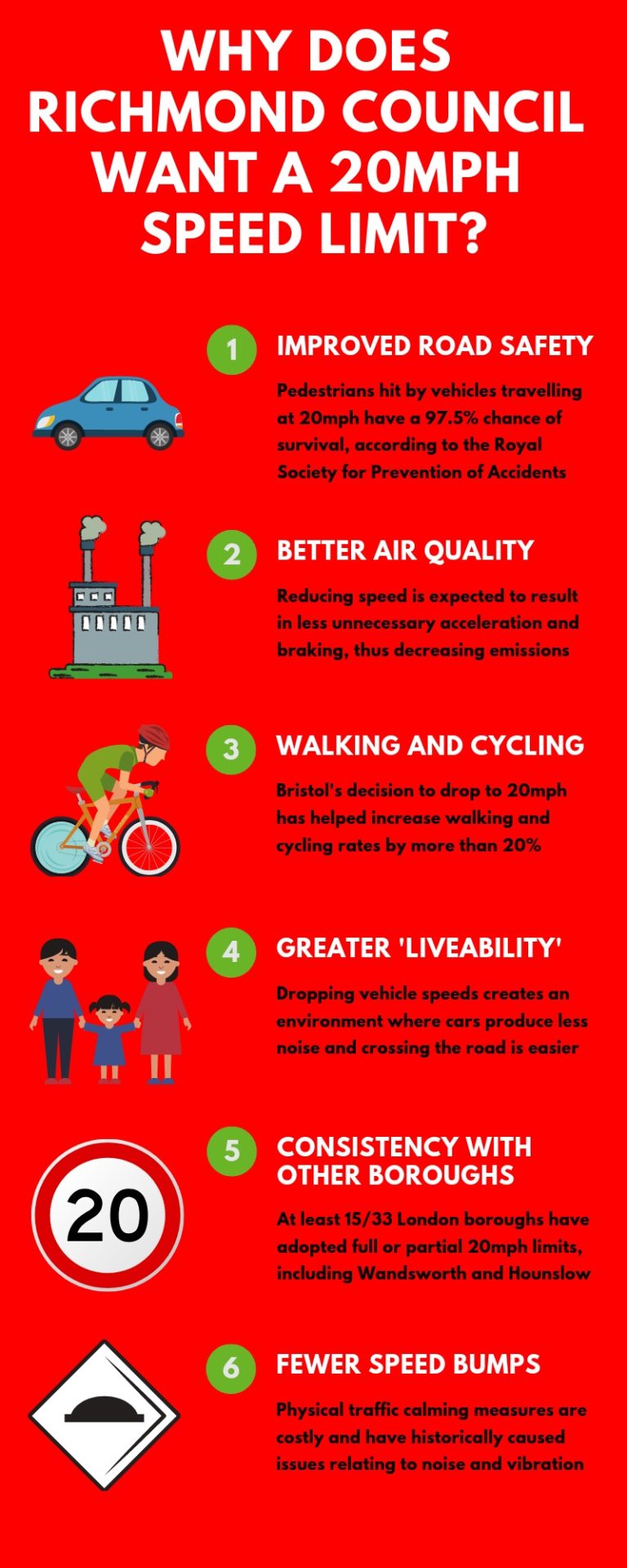 Opposition councillors have accused the Lib Dem administration of ignoring its residents, though, after a nine-week consultation process of almost 10,000 people revealed more were against the proposal (49.7%) than in favour (47.9%).
Councillor Ehmann rejected claims the council was defying voters and explained how it had amended the proposal post-consultation, before pointing to the support 20mph had received from under 19s (65%) and over 75s (60%).
"Our consultation process was about understanding a range of views on what were planning to do and seeing how we took it forward," he said.
"It wasn't a referendum. It wasn't a binary choice in which a majority decided on what to do.
"We've tried to make the proposal more appealing to more residents who responded by addressing some of the qualitative concerns raised in the consultation, such as taking out roads that were frequently cited.
"Our hope is that ultimately we take more and more people with us through this process."
52.4% of respondents expected a 20mph limit to reduce the frequency and severity of road accidents, while 14.4% raised concerns over enforcement.
Tonight's cabinet meeting starts at 7pm in York House, Twickenham and is open to the general public.
The Cabinet Report on Richmond's 20mph proposal is available here.