London students feel forgotten in the economic crisis as inflation rises to 11.1%, housing demand hits 81% and rental availability falls 47% from 2019.
During the pandemic, between 2019 and 2020, it was reported by Rightmove that asking rent prices in inner-London decreased by 6.8% while from 2021 to 2022, it increased by over 16%.
This made the average asking rent price, within inner London in 2022, £2,343.
Some students, who went into the second year of their studies in 2021, were given 'COVID rates' on their rent.
This reduced their outgoings significantly meaning the increased rates this year hit their budgets significantly.
There were also plenty of renting choices in 2021 as housing availability rose to 19% (from 2019), whereas this year it was down 47% (from 2019).
Nicole Kearsley, 21, a third year student from the University of Westminster had to down-size from a four-bed house in King's Cross to a two-bed flat in Tooting as their landlord wanted at least £100 more per month, per person.
This was a 13% rent increase for a house with many alleged maintenance issues, including damp, mould and plumbing issues.
Kearsly said: "We tried to find a house that was decent to live in as everything else in our budget was disgusting."
Students who moved to outer-London haven't saved as much as they had hoped, as other costs like food and transport have increased exponentially as well.
As student maintenance loans haven't been raised in proportion to inflation, the burden of finance is on undergraduates' conscience while they study for end of term exams.
According to a Government survey more than three-quarters of students in the UK are concerned that the cost of living crisis will affect how well they do on their studies.
Rosie Railton, 20, a second year student at Queen Mary University of London said she has had to pre-plan her budget for her third year as she knows her loan will get reduced.
She said: "Right now I get the minimum amount available for a second year student which isn't enough and it doesn't cover my rent.
"I know for a fact my loan drops next year as a third year student which means it will be even harder to afford everything.
"It isn't enough to live on, especially considering the current economic climate."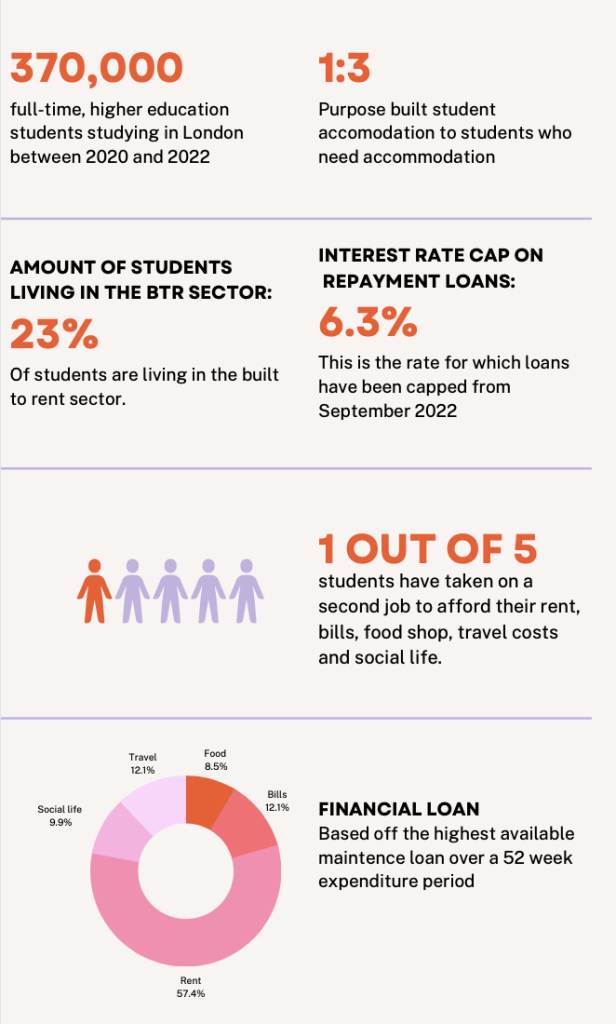 The data above shows that one in five students have had to take on a second job, or work additional hours, to afford their life in London.
The London School of Economics (LSE) advises on their website that students who study in London should budget themselves £1,300-£1,400p/m for all living expenses which include rent, travel, food, bills, social occasions etc.
Therefore to afford 12 months in London, students would need a rough income of £15,600.
This is 23.05% more than what the maximum maintenance loan permits, which is currently £12,677, only 5.4% more than what it was in 2020.
Maintenance loans are based on a student's parents' income and for this year's second year students only 13,257 qualified for the maximum amount.
This makes life for students in London both a struggle and budget nightmare.