By Matthew Verri and Aman Pathiara
December
13 2019, 06.00
Follow @SW_Londoner
Helen Hayes retained her Dulwich and West Norwood seat tonight, having secured 65.5% of the vote with 36,521 votes.
A close contest for second saw Green Party co-leader Jonathan Bartley win 9,211 votes, and the Conservatives' Jane Lyons gain 9,160.
The Brexit Party's Julia Stephenson won 571 votes, Anthony Hodgson of the Christian Peoples Alliance received 242 votes and Jon Plume of UKIP gained 73 votes.
In her victory speech, Ms Hayes said: "I'm delighted, it's such a privilege to represent Dulwich and West Norwood. I now have a fresh mandate to represent this community that has put their faith in me."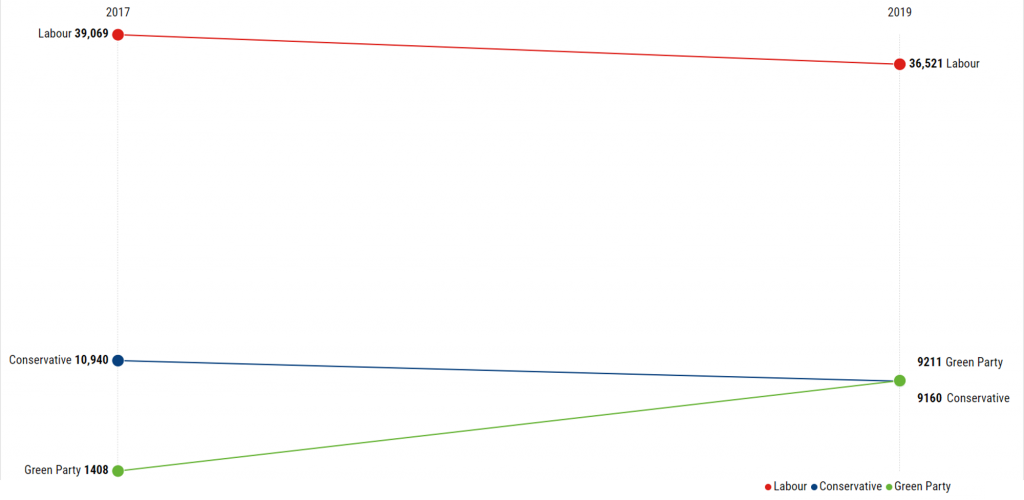 But despite Ms. Hayes' victory, the election proved to be a difficult night for the Labour Party.
Ms. Hayes added: "It's been a complex and difficult election, and the time for understanding what has gone wrong in different parts of the country will come in the coming weeks.
"I'm really devastated to see the loss of so many respected, hard-working colleagues, and to see a Conservative government with a working majority.
"I obviously wanted a Labour government, this area needed one, so it's now a process of building back.
"I now have to stay close to my constituency, make sure I'm listening all the time and building that trust. We have to figure out that trust and confidence which we've lost all across the country, and that's going to be a complicated story that requires a lot of reflection."
As part of their United to Remain alliance, the Liberal Democrats declined to stand in the constituency, instead supporting the Green Party.
Mr. Bartley, the Green Party candidate, said: "I'm absolutely thrilled with the result in this constituency, it's the biggest swing to the Greens in London. In Richmond Park, Zac Goldsmith has been unseated, and that's a massive win for that alliance we were a part of – to get rid of a Conservative."
The alliance appears to have paid off for the Liberal Democrats, Green Party, and Plaid Cymru – with the parties coming together to form a pro-Remain front.
Mr Bartley added: "The biggest success for us was framing the election as a climate emergency election, when everyone was talking about Brexit. We want to remain in the European Union, but that's because it's one of the best ways of tackling the climate emergency.
"Labour lost this election, that's the fact. As long as they don't embrace proportional representation, they will be lining up the next Conservative government. There is a progressive majority in this country, but it needs electoral reform to achieve it and Labour has to play its role."