The death of his uncle led Jamie Gardiner on a journey from Blackburn to central London.
Alongside three relatives, he joined around 200 other bereaved friends and family for the annual United Friends and Families Campaign (UFFC) march on Saturday 28 October.
Established in 1997, the UFFC is a coalition of those affected by deaths in police, prison and psychiatric custody.
Mr Gardiner wore a white t-shirt bearing an image of his uncle John Gardiner, who died after being arrested by Lancashire Police on May 10 1996.
An inquest into John Gardiner's death delivered an open verdict, despite the severity of the injuries sustained, the fact he was handcuffed at the time and that the events leading to his death took place in a street with witnesses.
"We have law in this land. We don't have justice, in our eyes," Jamie said.
This was the Gardiner family's first UFFC march, but for many other families and friends, the route from Trafalgar Square, down Whitehall to the gates of Downing Street, is grimly familiar.
Since 1990, 1,632 people have died after contact with the police in England and Wales, according to the charity INQUEST.
The charity, which focuses on deaths in state custody, has recorded over 5,600 deaths in prison and in police custody in England and Wales between 1990 and 2016.
Previous years have seen delegations pass the armed police and metal detectors to hand petitions to Number 10.
This year, however, families and supporters stood between the Cenotaph and the Women of World War II monument, in the neoclassical shadow of the Ministry of Defence.
One by one, relatives took the microphone and spoke of the deaths of their loved ones, and their ongoing fights for the truth about how they were killed.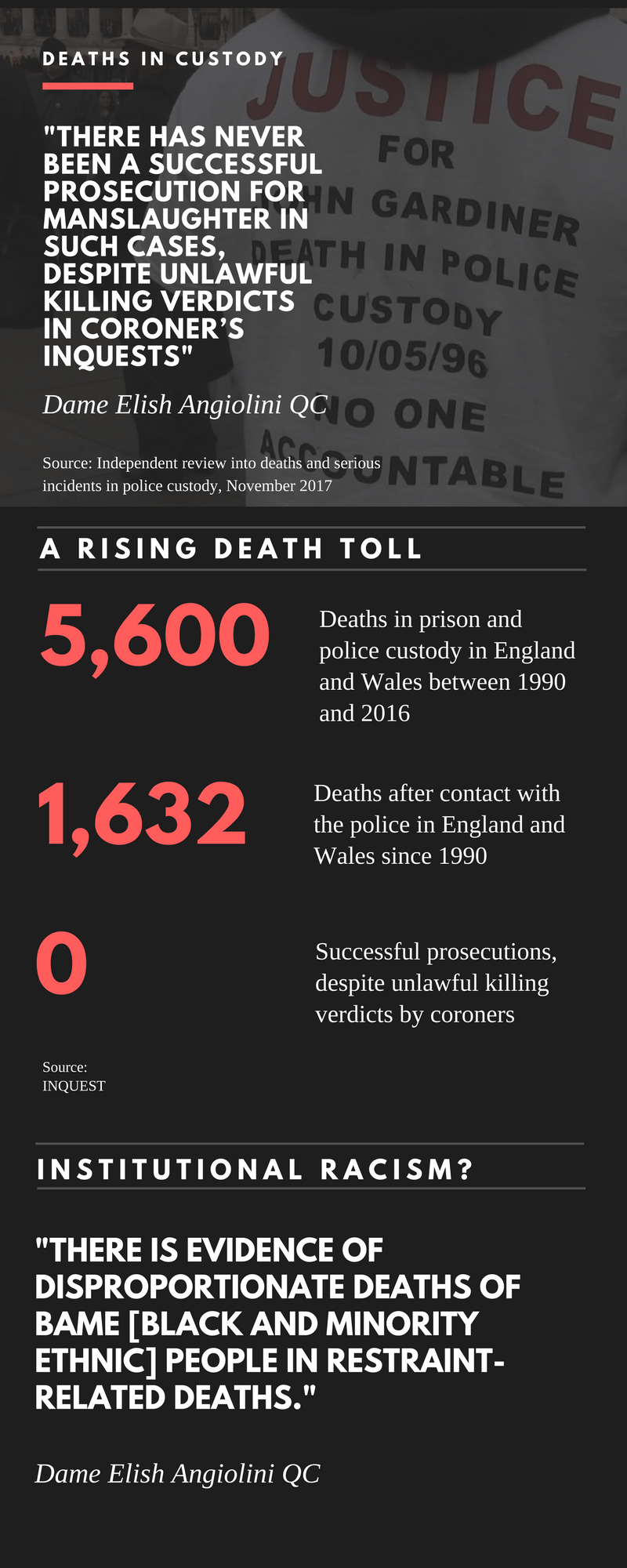 Switching between French and English, a Parisian delegation of bereaved families and friends read out lists of people killed by French police.
Marcia Rigg, a campaigner and sister of Sean Rigg, who died in Brixton police station on 24 August 2008, read a statement from UFFC which addressed the international scope of the deaths in custody.
"Whether the death occurs in Paris, London, Madrid, Berlin or any town and city, we look far and wide for answers as to why our sons, daughters, mothers, fathers, brothers and sisters have been murdered by the state."
An independent review into deaths in police custody by Dame Elish Angiolini QC, released on November 1st 2017, found "evidence of disproportionate deaths of BAME people in restraint related deaths.
"Of eight prosecutions of police officers in connection with a death in custody in the last 15 years, all have ended with acquittals. These include prosecutions for murder and manslaughter.
"In fact, there has never been a successful prosecution for manslaughter in such cases, despite unlawful killing verdicts in Coroner's Inquests."
The report, the publication of which had been delayed by 15 months, made a series of recommendations, including that deaths in custody should be investigated with the same urgency of murder inquiries.
It also recommends a closer working relationship between the Crown Prosecution Service and the Independent Police Complaints Commission.
The IPCC, which investigates allegations against the police and all deaths in police custody, has long faced criticism for its perceived closeness to the police, with many of its investigators being ex-police officers.