An inspirational Kennington brewery dedicated to fighting cancer has been shortlisted for a unique £10,000 prize – with the winner chosen by the five finalists themselves.
Award-winning Two Fingers Brewing Co. reached the social enterprise competition final, run by deluxe scotch whisky brand Chivas, for their fight against cancer as well as their critically-adored beers.
Two Fingers' profits go to Prostate Cancer UK and their altruism has been recognised by Chivas whose social enterprise competition was launched to create positive change in business.
We caught up with the altruistic brewery's co-founder Matt Sadler ahead of the 'dream opportunity' of the UK final on February 18.
"We're absolutely thrilled to be in the final, it is very exciting as it could be a real game changer for us," Matt told SWL.
"We have a lot of opportunity but few resources so a platform like the Chivas Venture could be amazing in terms of turbo-charging our ability to propel our company and the social good it undertakes."
Two Fingers give their drinks strong male names representing the beer itself but also symbolising unity in the fight against prostate cancer which kills 10,000 men a year.
Flagship beer Aurelio is already on the shelves of Tesco, Ocado and Morrisons, 2015's focus is enabling more people worldwide to support a worthy cause simply by drinking beer.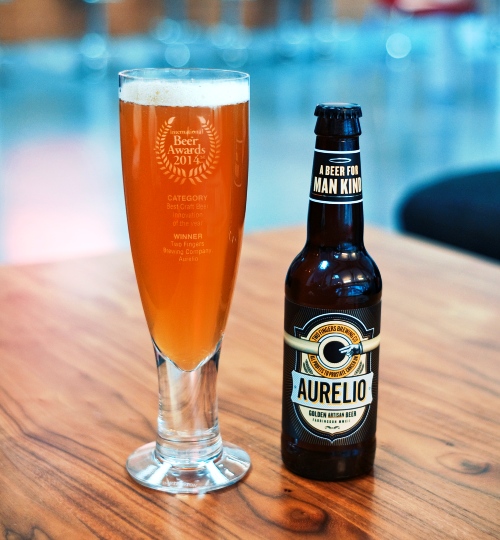 Since winning the 'best craft beer innovation' award at last year's International Beer Awards in Rome distributors in Asia, Africa and Scandinavia have contacted the company in the hope of expanding the London-brewed beer's reach.
"Winning the international beer award in May was an incredible achievement for us, we were real outsiders but to be recognised amongst famous beer brands was incredibly energising and showed the real potential of what we are doing," said Matt.
The company's logo bears a noticeably tongue-in-cheek significance to its goodwill pledge.
Matt said: "Our logo is a cheeky nod towards a few things, you notice the two fingers are in the style of an oath which represents our promise to make good beer for a good cause.
"The two fingers also reference two fingers up to prostate cancer and of course to the infamous prostate exam although that is carried out with only the one finger."
Despite the ambition of the project and the coverage that Two Fingers Brewery have received through awards and competitions such as the Venture, the brewery remains a inspirational but time-consuming hobby for Matt and his colleagues.
"We work in marketing at an advertising agency so this is our way of using our professional skills and our love of craft beer to do something for a cause that we believe in," he said.
"The messages of support we get from people week in week out are brilliant! We have been blown away by how much beer lovers are inspired by what we are doing and that really gives us the energy to keep growing."
One UK finalist of The Venture will be invited to a week-long entrepreneurs' training-camp in Silicon Valley, California – home of many of the world's leading start-ups.
They will then have the opportunity to meet global technology companies, be mentored by experts, and pitch for their part of the $1 million global competition prize.
Representing south west London, we wish Two Fingers Brewing Co. the best of luck at next week's final!