By Amy Addison-Dunne
November 12 2019, 18.15
Follow @SW_Londoner
McDonald's has been told it can 'expect more strikes' by the Bakers' Union on a day when McStrikers from its Wandsworth Town branch headed to Downing Street to present a letter to Boris Johnson.
The 'McStrike' at the Wandsworth Town branch of McDonald's included a McDonald's worker from Texas, Labour politicians and trade unionists.
The striking McDonald's workers, represented by the Bakers Food and Allied Workers' Union (BFAWU), demand union recognition, £15 an hour, the abolition of youth wages and zero-hour contracts, and safer working conditions.
Ian Hodson, president for BFAWU said: "McDonald's can expect more strikes, unless they actually start taking up the offer we keep making them, which is to sit down and talk with us.
"McDonald's has unfortunately got a terrible history when it comes to workers rights, and unfortunately we've seen too many examples of sexual harassment and abuse in the workplace.
"We would be happy to work alongside McDonald's to help them alleviate some of that culture they seem to have in that business. We are happy to work with them to ensure they improve their safety as well."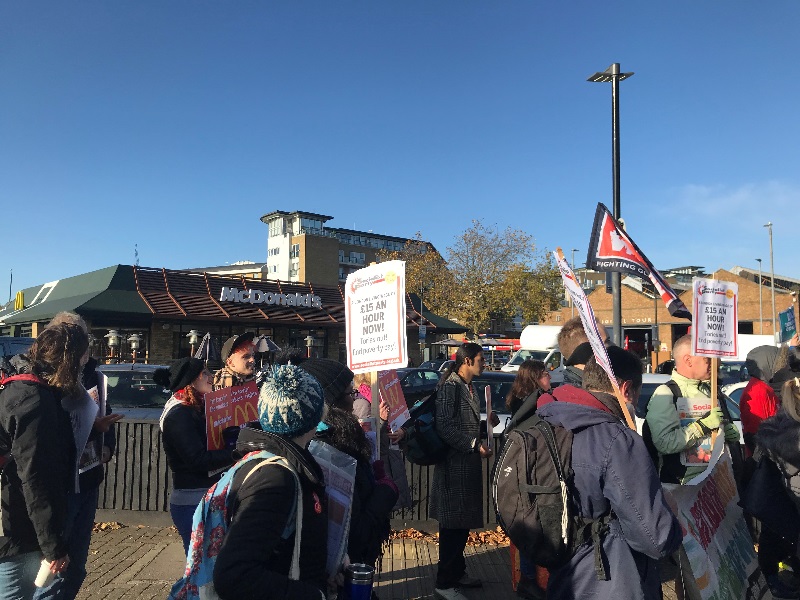 Labour Prospective Parliamentary Candidates (PPC) for Streatham Bell Ribeiro-Addy said: "I'm here to support the workers of McDonald's. I think they're being treated absolutely disgracefully, the McDonald's CEO needs to wake up and treat them fairly.
"Who are they to look down on them and call them unskilled? They're literally raking in millions, billions actually, for the company every single year."
Lewis Baker, a McStriker from Crayford branch said: "My experience in McDonald's hasn't always been a great one. It's my fourth time going on strike today. We need a wage we can afford to live on, we need guaranteed hours, that's not asking for a lot. We need improved conditions for workers."
He claimed that McDonalds has been 'hostile' towards BFAWU, refusing to meet with the union, and used a lot of 'union busting tactics', including segregating workers organising, and doing everything they can to stop the strike growing.
A McDonald's spokesperson claimed that the company already offers a 40 hour per week guarantee, but 90% of their workers choose to stay on 'flexible' contracts.
The spokesperson said: "We are extremely disappointed that a very small number of our people in just a handful of our restaurants are considering industrial action today.
"We understand only nine people are involved across six restaurants in London and the south east, which is a tiny proportion of our 130,000 workforce and 1,300 restaurants.
"Their potential actions do not represent our people. We are committed to investing in our workforce, listening to and doing what is right by them."
Shadow Chancellor John McDonnell joined the striking workers at Downing Street.