Hundreds of dogs and their owners marched through central London on Sunday to demand a second public vote on Brexit.
Wooferendum marchers demonstrated concern over how exiting the European Union may affect the UK's estimated 51million pets, such as the availability and prices of vets.
The pooches loved the opportunity to urinate on pictures of Nigel Farage and Boris Johnson at designated pee stations along the Parliament Square rally.
Wooferendum founder Daniel Elkan said: "No campaign by itself will stop Brexit, but together lots of different campaigns do, and this is engaging so many more people than would have otherwise been engaged.
"This is getting media from around the world. They're seeing that the British, a nation of dog lovers famed for their humour, are coming together, speaking out and barking out."

Speakers included Labour MP Stella Creasy, actor Peter Egan and political writer Alastair Campbell, holding his King Charles Spaniel puppy Skye.
Four-legged protesters, some sporting signs like 'Brexit is barking', made for a loud and visually striking day.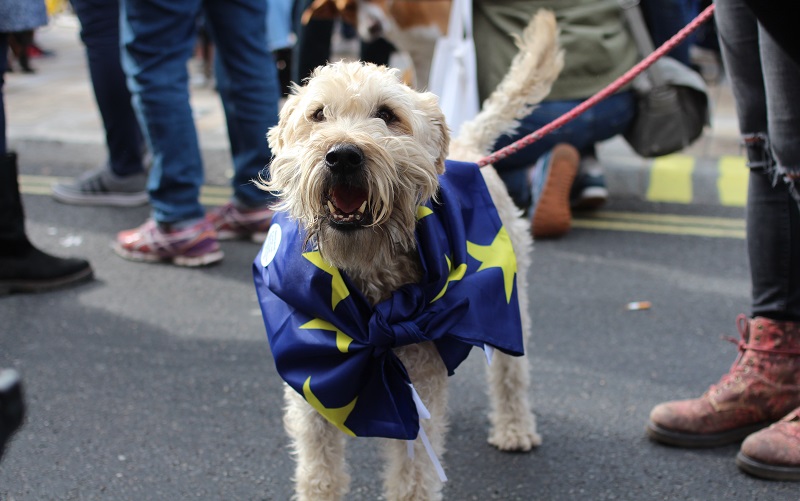 RUFF DEAL: Dogs turned out to protest against Brexit
Mr Elkan said he came up with the idea for the unusual protest because Brexit could be a 'difficult, dry and even boring topic to discuss', but was nevertheless 'a conversation that needed to happen'.
"It's really important that people speak out, so enabling people to do that through their dogs is a way that people can feel engaged, be creative," he said.
He added: "We can create a really big bark from people that were perhaps not speaking out before about Brexit and about the need for a people's vote."
Half of new qualified vets in the UK come from the European Union, so speeches focused on what Brexit means on animal healthcare availability and pricing.
Other fears centred on the loss of EU environmental and animal welfare standards, pet food prices and the logistics of travelling with a pet.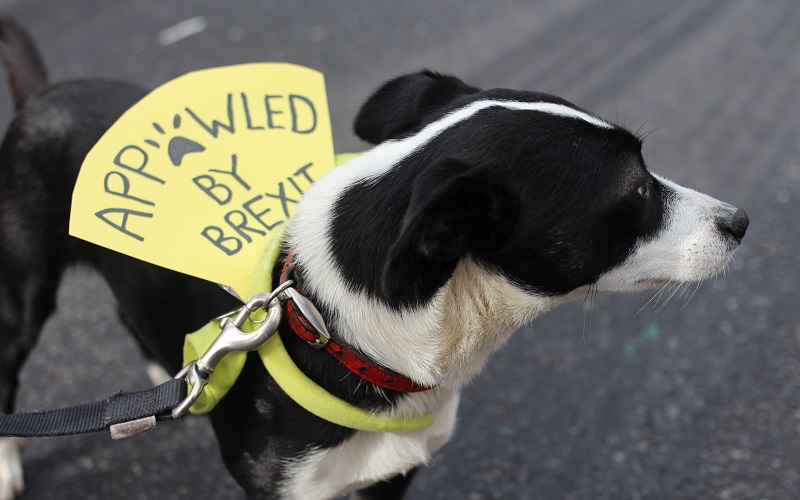 ARE YOU FUR REAL: Brexit may affect the UK's pets in various way
Protestor Emma Roberts said she was concerned about being able take her dogs to France to visit family.
She said: "We like to visit each other with our dog passports. If Brexit happens and there's no deal that means that our dogs will have to go into quarantine, so for us it's quite a big deal."
Fellow dog walker Flora Renz said: "I'm an EU national, I'm from Germany and I've lived in the UK for ten years now.
"I feel that we didn't get to have a say at all in the referendum and I'm hoping that coming out today with our dog, who is British, can hopefully change people's minds."