The lonely labrador featured in the first episode of the new series of Paul O'Grady: For the Love of Dogs has finally found a home.
Hope, 11, found herself at Battersea after her elderly owner became ill and was unable to care for her.
However Hope has now found her forever home with Christine Hagger from North East London.
Christine said: "When I came to meet Hope at Battersea they couldn't even bring her to me – I had to go to her kennel she was that petrified she wouldn't leave.
"I've never owned a depressed dog before, but she was in such a sorry state I had to take her."
Hope had been in a family home for 10 years, and consequently found making the transition to kennel life at Battersea extremely difficult.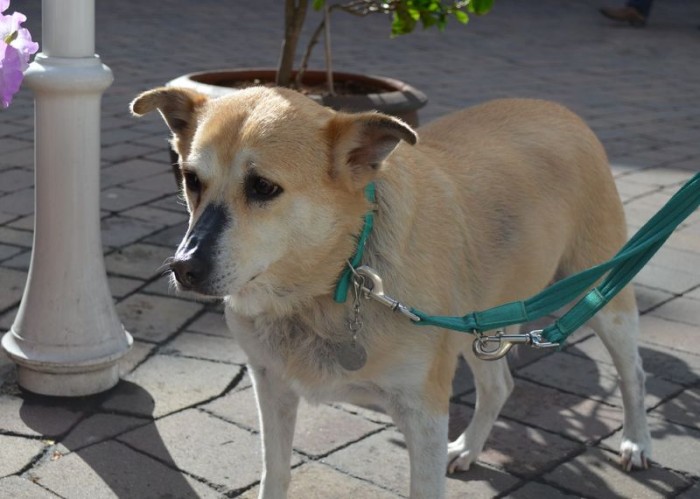 HAPPIER TIMES: Hope now enjoys cuddles with her new owner and going for walks
Pining for her previous owner, Hope displayed severe signs of distress losing fur, as well as becoming unwilling to leave her kennel or even eat.
Battersea veterinary surgeon Claire Turner, said: "It's what we call shutdown, when they just aren't interested in human interaction at all."
However with the help of Battersea staff Paul O'Grady worked to win Hope's trust and help build her confidence, something he did by telling her a few hard truths.
He joked: "You can't play hard to get at your age Hope.
"Quite frankly, you have to get what comes through the door.
"Us old ones, we can't be fussy, those days are over."
Now happily resettled her owner Christine is thrilled and says she's now become an important part of the family.
She said: "She loves her walks and meeting new people – she jumps around the sofa and armchairs and even gives a paw.
"Her fur is growing back and she even shares the bed with me at night.
"She's my shadow and follows me everywhere with her tail wagging."
If you would like to rescue one of the 8000 dogs and cats Battersea care for, contact Battersea on 0843 509 4444 or visit www.battersea.org.uk