Lingerie-clad models sporting bunny heads strutted their way around  Somerset House's square yesterday to protest against the use of rabbit fur in fashion.
The demonstration, organised by People for the Ethical Treatment of Animals (PETA), was timed to coincide with the beginning of London Fashion Week.
The scantily-dressed supporters held signs emblazoned with the slogan 'No Bunny Should Suffer for Fashion'.
PETA director Mimi Bekhechi said: "Every day, gentle rabbits are bludgeoned, electrocuted and skinned just for the sake of a jacket or a scarf."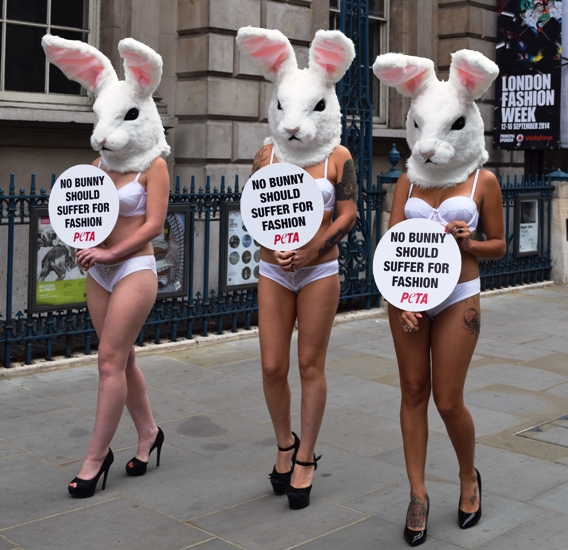 The group is calling for designers, models and buyers to boycott all fur garments.
A video released by the group in November showed the appalling conditions in which rabbits are being kept on Chinese angora farms.
The footage shows a rabbit apparently screaming in agony as its fur is plucked off, and PETA claims that the animals are confined to cramped cages and subjected to physical abuse and torture before having their skin peeled off.
Several British designers, including Stella McCartney and Vivienne Westwood, refuse to use fur products, although the practice remains common in the fashion world.
This year's London Fashion Week begins today and will end on Tuesday September 16.