A new Kingston Friends of the Earth branch will count Heathrow expansion, Kingfisher Leisure Centre redevelopment and Richmond Park traffic among its key issues.
The group launched on Thursday with the aim of addressing several key issues affecting the area.
Group founder Alison Gomez-Russell, a Kingston resident since 1996, has been an active campaigner from an early age and hopes this latest venture can bring about real change.
She said: "Campaigning has followed me through life, I've been on all sorts of marches and demonstrations.
"I've been going to Hampton and Richmond Friends of the Earth. I looked into it and there was nothing for Kingston. There was a serious lack and I felt the need for a group more locally."
The group is not exclusively focused on environmental issues but would like to see action regarding the Kingfisher Leisure Centre development, the increased car flow in Richmond Park and the use of plastic in supermarkets.
For Gomez-Russell the proposed third runway expansion of Heathrow Airport is a primary concern, not just for its impact locally but globally too.
She said: "The runway would involve a new low flightpath right over Richmond Park. It's going to be hideous. It's going to affect everyone's experience of the park including the wildlife's.
"It's important to keep the pressure on them. The government are saying one thing but doing another. Likewise, they want to finance a 'green industrial revolution'. By virtue of the fact it's industrial, how can that be green?"
Gomez-Russell's view is shared by the campaign group Stop Heathrow Expansion which claims that a third runway would see an additional 700 planes using the airport each day which would have a drastic impact on Kingston and the Thames Valley.
It is also stated on the group's website that the development would require the demolition of over 3000 homes and make the government's target of net zero carbon emissions by 2050 impossible.
Group spokesperson Geraldine Nicholson said: "The Heathrow expansion would be to the severe detriment of our environment, both locally and nationally.
"Recovery from the pandemic provides an opportunity to build back better and create a more sustainable environment for us all.
"Heathrow should make its sole focus to become a better not bigger airport. Our climate and environment demand it."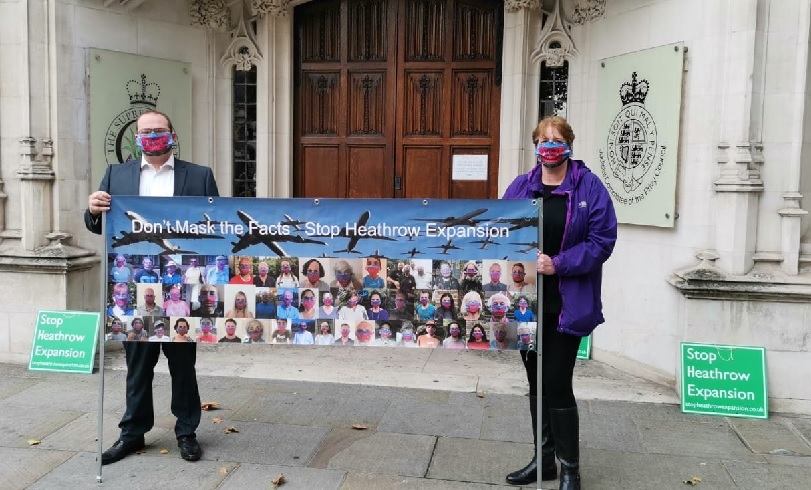 A Heathrow Airport spokesperson said: "We have always been clear and the Government's Airports National Policy Statement is clear that Heathrow expansion will only be delivered in-line with strict environmental limits – that remains the case today.
"At the moment, our primary focus is on working to safely restart international travel and trade to help kickstart the UK's economic recovery after COVID and enable people to see their family and friends around the world again.
"In the longer-term, expanding Heathrow will be mission critical to providing businesses and communities across the UK with the infrastructure they need to be successful and we are consulting with stakeholders on our next steps."
Featured image credit: No 3rd Runway Coalition