A spectacular procession of Irish marching bands, energetic dance troupes and colourful pageantry will launch London's world-renowned St Patrick's Day parade and festival on Sunday.
This year's event will include top Irish talent in Trafalgar Square and the Tube, a special movie premiere, a street food market with fine Irish fare and a huge Céilí in the heart of the capital.
Wimbledon-based South London Irish Association will be joining the parade on a 1930s fire engine as more than 70 community groups make up the parade.
Six marching bands, ten sports groups, six dance groups, a giant puppet and a wolfhound will accompany 45 floats.
The parade will begin at Green Park and pass some of the capital's most iconic locations from Piccadilly to Whitehall.
The public are invited to line the streets and cheer them on from midday before performers from diverse Irish communities, aged from eight to 88, congregate at Trafalgar Square.
Among the acts will be one of Irish Country music's biggest stars, Nathan Carter.
The popular 25-year-old will be dropping by the free show to please crowds of adoring fans before continuing with his UK tour.
The singer, most noted for singing Wagon Wheel and for his successful TV show in Ireland posted on his Facebook page: "Can't wait to play in Trafalgar Square this Sunday afternoon to celebrate St Patrick's Day!"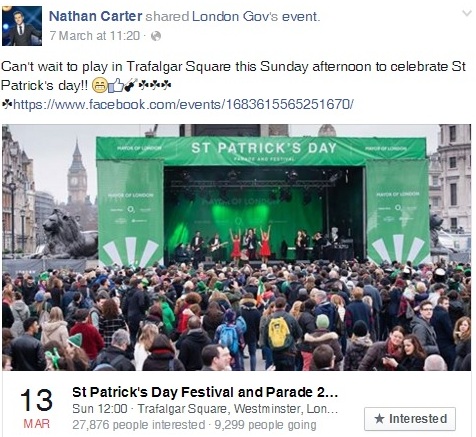 The London Lasses will bring traditional Irish music to the Square, as well as popular London-based band The Craicheads who will delight the crowd with a collection of original tracks and Irish crowd-pleasers.
Thousands of spectators will also have the chance to partake in the Big St. Patrick's Céilí with Céili Max.
Holding it all together will be UK-based Irish comedian, Jarlath Regan and the house band of RTÉ's Late Late Show.
London Mayor Boris Johnson said: "It's a pleasure to once again be supporting one of the biggest and best St Patrick's Day celebrations anywhere in the world.
"Our free event in the heart of the capital is a terrific opportunity for Londoners and visitors to embrace the traditions of Ireland, to mark the huge contribution several generations of Irish people have made to our city and to have 'the craic'!
"Wishing everyone a terrific St Patrick's Day. Lá Fhéile Pádraig shona daoibh! [Happy St Patrick's Day to you!]"
Trafalgar Square will be turning green and the festivities will be accompanied by the finest flavours of the Emerald Isle with a special street food market.
Bord Bia (Irish Food Board) and acclaimed chef John Relihan, a Kerryman who works in London, will be whetting the appetite of the crowd with an exclusive cookery demo.
Michelle Butler, manager at Bord Bia UK and Ireland, said: "Bord Bia, the Irish Food Board are proud to support this wonderful St Patrick's Day celebration in Trafalgar Square.
"St Patrick's Day was traditionally known as the day of feasting, and so it is only fitting that we would give festival goers the opportunity to 'feast' on some of the finest food Ireland has to offer."
Transport for London and the Irish Embassy are bringing Irish music and poems to the London Underground to coincide with the St. Patrick's Day festivities in the capital.
Several Tube stations will have performers showcasing Irish music, dance, poetry and the country's rich cultural heritage, while celebrating links with London.
A special exhibition at Moorgate station will celebrate the contributions of Irish workers to the development of the Underground and London's rail networks.
This year marks the 100th anniversary since the 1916 Easter Rising. To mark this momentous occasion in Irish history, there will be a commemorative reading on the main stage by Irish ambassador to the UK, Daniel Mulhall.
A free St Patrick's Day film festival will take place at the Regent Street Cinema from 11.30am-1.30pm on Sunday 13 March.
New film Sing Street from John Carney, best known for his Academy Award-winning 2007 movie Once, will premiere at the festival at 7.30pm.
The event is also a unique chance to see a wide range of short films focused on Irish life and culture.
To bring the festival to a close at 6pm, Nelson's Column and the Trafalgar Square fountain will join other landmarks around the world and be lit green for St Patrick's Day.
David Boyce, deputy director of tourism Ireland GB, said: "Tourism Ireland is delighted to support the St Patrick's Festival in London.
"People everywhere demonstrate a strong affinity with St Patrick's Day, with events taking place in cities across Great Britain to celebrate Ireland's warm and close relationship with our nearest neighbour."
To make the most out of the St Patrick's Day celebrations, allow extra time for your journey and check the TFL website before you travel at tfl.gov.uk/journeyplanner
Public transport will be the best way to get to the event although Tube stations in the surrounding area including Green Park, Leicester Square, Embankment, Piccadilly Circus and Charing Cross are likely to be busier than usual.
Bus services will be curtailed or diverted in Mayfair and St James's due to road closures for the parade from 9.30am until 3pm.
The Mayor of London's St Patrick's Day celebrations are being organised in partnership with the support of Bord Bia, Tourism Ireland, JB Riney and Modebest.
For more information visit www.london.gov.uk/st-patricks-day
The South West Londoner will be reporting from the parade and festival this Sunday so be sure to say hello to the team.